April 20, 2015
Hospice program provides compassionate end-of-life care in a challenging environment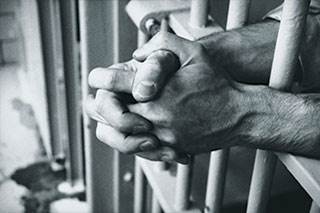 An increasingly large number of prisoners are chronically ill, elderly, or aging.
That the US prison system is filled beyond capacity is a well-known fact. What may not be so well known is that an increasingly large number of prisoners are chronically ill, elderly, or aging. According to Jamie Fellner, writing in Human Rights Watch, the number of incarcerated men and women older than 65 years has more than doubled since 2007, from 15,500 to 31,854 in 2013.1 Although there was actually a reduction in the general federal and state penitentiary population, the number of incarcerated elderly keeps rising disproportionately. Fellner writes, "US prisons increasingly resemble high-security nursing homes, as the number of aging inmates continues to soar … Many of these prisoners will be into their 70s, 80s, or even older before they have finished their sentences; some are serving life without parole."1
MORE CASES OF CANCER
Compared with the community at large, there is more illness among a prison population, in a place where it is difficult to be ill. According to a recent report, prisoners have more infectious and chronic illnesses than the general population.2 There are more patients with more aggressive malignancies than seen outside. Studies have shown that the most common cancer among prison inmates is lung cancer, attributable to the degree of smoking among inmates.3 Those prisoners who develop the disease are young and have an especially poor prognosis.4 However, not only male prisoners suffer more from cancer, incidence of cervical cancer is higher among the women in such situations than those in the general population.5
In addition, there are more substance-related illnesses among prisoners, more psychiatric illnesses, and higher rates of dementia as well. As a result, health facilities in correctional institutions throughout the country must address the need for hospice and end-of-life care.2
The Louisiana State Penitentiary Prison Hospice Program is a long-running model of care that offers an effective solution. The facility, located in Angola, Louisiana, houses more than 5,000 male prisoners in various degrees of incarceration from minimum to super-maximum custody. The Louisiana correctional system has some of the country's strictest sentencing laws; many of its prisoners are serving life sentences and therefore growing old in prison.