October 07, 2016
G-CSF May Only Modestly Prevent Neutropenia-related Hospitalization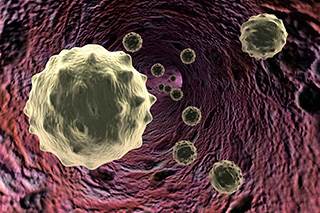 G-CSF May Only Modestly Prevent Neutropenia-related Hospitalization
Primary prophylaxis with granulocyte colony-stimulating factor (G-CSF) provided only a low-to-modest benefit in reducing neutropenia-related hospitalization in patients with breast cancer who are receiving low-to-intermediate risk chemotherapy regimens, according to a study published in the Journal of Clinical Oncology.1
For the study, researchers sought to assess outcomes after G-CSF prophylaxis in patients with breast cancer treated with chemotherapy regimens of low-to-intermediate risk for neutropenia-related hospitalization.
Investigators retrospectively analyzed data from 8745 patients who started their first cycle of chemotherapy for breast cancer between 2008 and 2013. Patients received docetaxel plus cyclophosphamide (TC), docetaxel plus carboplatin and trastuzumab (TCH), or doxorubicin plus cyclophosphamide (conventional-dose AC).
Results showed that primary G-CSF prophylaxis was associated with a 71% reduced risk of neutropenia-related hospitalization for TC and an 81% reduced risk for TCH; however, G-CSF did not decrease the risk of neutropenia-related hospitalization in patients treated with AC.
Researchers found that 20 patients (95% CI, 16-26) treated with TC would have to be treated for 21 days to avoid 1 neutropenia-related hospitalization, and 18 patients (95% CI, 13-25) would have to be treated with TCH for 21 days.
The findings suggest that further studies are needed to better determine which patients derive the most benefit from G-CSF in this treatment setting.
Reference
1. Agiro A, Ma Q, Acheson AK, et al. Risk of neutropenia-related hospitalization in patients who received colony-stimulating factors with chemotherapy for breast cancer. J Clin Oncol. 2016 Sep 19. doi: 10.1200/JCO.2016.67.2899. [Epub ahead of print]