January 02, 2019
Potential of Fecal Microbiota Transplantation in Managing Immunotherapy-Associated Colitis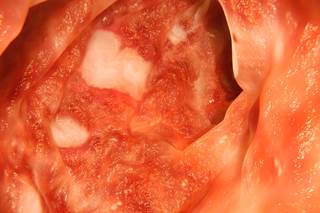 Immune checkpoint inhibitors are associated with potentially serious IRAEs, such as immune-mediated colon inflammation, or colitis.
The therapy is in its early stages and whether such benefits will occur in human patients is not yet clear, or if some cancers may be more responsive to FMT than others.
"At this point, we will treat patients who develop colitis no matter what type of cancer they have," Dr Wang said. "As we get larger patient populations, I think we might be able to learn about the roles of specific bacteria, and specific cancer types, and could find out if FMT will help with cancer regression as well as colitis."
Thus far, there's no evidence of safety concerns.
"There is extensive research published on FMT for recurrent C difficile infection and inflammatory bowel disease, even in immunocompromised patients," she said. "Studies showed consistent results of high efficacy in treatment outcome with minimal serious side effects."
A 2017 systematic review and meta-analysis of data from 4 studies (representing 277 patients) had suggested that FMT improves remission rates for active ulcerative colitis, compared to placebo, without any significant increase in serious adverse events.2 FMT has also been proposed as a potential treatment for patients undergoing allogeneic hematopoietic cell transplant.3
Some researchers have introduced fecal material through feeding tubes, but that entails an aspiration risk when patients are heavily sedated or nauseated, cautioned Dr Wang. But her team used colonoscopic FMT, which entails only the risks related to routine colonoscopy.
Larger volumes of fecal material are deliverable through colonoscopy, as well. "That seems to be more effective than the smaller amounts they can deliver through the upper GI route," she said.
"From the feedback from my nursing and technician team, we found doing FMT is very straightforward — it's a simple procedure that you just need to go through standard protocol," explained Dr Wang. "Patients who receive FMT need a close follow-up within a week to make sure there's no adverse events. Otherwise, it's an outpatient procedure and patients can go home right after the procedure."
FMT is not yet FDA approved for routine clinical use except in the setting of recurrent C difficile treatment. The agency has determined that fecal material is a biological agent and that FMT must be regulated to protect patients.
"We need bigger sample-size studies," Dr Wang points out. "That's our next step. I anticipate we will begin recruiting for a larger trial in the next 3 months. Obviously, there are a lot of factors involved to get this trial launched: we need to have our institution IRB [Institutional Review Board] and an IND [Investigational New Drug authorization] from the FDA in place, and we need funding support."
Diagnostic Mimics
ICI colitis and hepatitis must be accurately diagnosed for timely, optimal patient management, and other conditions can mimic these IRAEs, cautioned Dipti Karamchandani, MD, associate professor, Department of Pathology, Penn State Milton S. Hershey Medical Center, in Hershey, Pennsylvania.4
Immune checkpoint inhibitors have transformed the treatment and prognosis of several advanced-stage cancers, but like any drug, they come with side effects. "As we expect increased use of these drugs in the near future, it is anticipated that more and more patients affected with IRAEs will be encountered in clinical practice," Dr Karamchandani explained to Oncology Nurse Advisor.
When diagnosing ICI-associated colitis on biopsy, consider the histologic features in conjunction with the clinical history. In addition, the clinical team should anticipate that IRAEs can occur weeks or even months after ICI therapy ends.
"The common histopathologic findings encountered in colonic biopsies include an active colitis pattern of injury (neutrophilic cryptitis/crypt abscess) with increased apoptosis along with crypt atrophy/dropout, and apoptotic microabscesses," Dr Karamchandani explained. "Dense, predominantly lymphocytic infiltrate in the lamina propria with variably frequent plasma cells and eosinophils are seen."
Another pattern of injury is lymphocytic colitis, which is characterized by increased intraepithelial lymphocytes with epithelial injury along with increased lamina propria inflammatory cell infiltrates.
Recurrent ICI-induced colitis often entails signs of chronic mucosal injury, such as basilar lymphoplasmacytosis, significant crypt architectural distortion, Paneth cell, and/or pyloric gland metaplasia.
"However, these histopathologic findings are not specific for ICI-therapy induced colitis," cautioned Dr Karamchandani. "The most common histopathologic mimics — to name a few — include other drug-induced colitides, infections, and acute graft-versus-host disease (GVHD)."
Drugs that can yield a similar pattern of injury include mycophenolate mofetil [an immunosuppressive drug], antimetabolites such as fluorouracil or capecitabine, tumor necrosis factor (TNF)-alpha inhibitors, and the phosphoinositide 3-kinase-δ inhibitor idelalisib.
"Lymphocytic colitis pattern of injury can be seen secondary to multiple other medications, such as nonsteroidal anti-inflammatory drugs, proton pump inhibitors, and histamine receptor inhibitors, among others," added Dr Karamchandani. "GVHD colitis may exhibit similar histological picture; however, a clinical history of stem cell transplantation vs ICI therapy may help confirm the diagnosis."
Infection-associated colitis — particularly cytomegalovirus (CMV) colitis — can produce a similar histologic picture "and should always be considered with the above histology as patients receiving ICI therapy are immunosuppressed and inherently susceptible to opportunistic infections," noted Dr Karamchandani. "Pathologists should have a low threshold for ordering CMV immunohistochemical stain in this setting."
References
1. Wang Y, Wiesnoski DH, Helmink BA, et al. Fecal microbiota transplantation for refractory immune checkpoint inhibitor-associated colitis. Nature Med. 2018;24(12):1804-1808.
2. Narula N, Kassam Z, Yuan Y, et al. Systematic review and meta-analysis: fecal microbiota transplantation for treatment of active ulcerative colitis. Inflamm Bowel Dis. 2017;23(10):1702-1709.
3. DeFilipp Z, Hohmann E, Jenq RR, Chen YB. Fecal microbiota transplantation: restoring the injured microbiome after allogeneic hematopoietic cell transplantation. Biol Blood Marrow Transplant. 2019;25(1):e17-e22.
4. Karamchandani DM, Chetty R. Immune checkpoint inhibitor-induced gastrointestinal and hepatic injury: pathologists' perspective. J Clin Pathol. 2018;71(8):665-671.