November 17, 2017
A Structured Group Exercise Program for Patients With Metastatic Cancer Receiving Chemotherapy and CTNNB1 (β-catenin) as a Biomarker of Exercise Efficacy
the ONA take:
Exercise is safe and feasible for patients with metastatic cancer receiving chemotherapy, and β-catenin may potentially be a biomarker that elucidates the relationship between exercise and anticancer effects, these study results have shown.
Previous studies have demonstrated that exercise can improve cancer-related fatigue, reduce the risk of cancer, and decrease the risk of relapse, but there is a lack of research investigating whether exercise has anticancer effects comparable with traditional systemic therapies in patients with cancer.
For this study, authors assessed the outcomes of 35 patients receiving palliative chemotherapy who enrolled into weekly aerobic and strength training classes. Patients completed the Functional Assessment of Chronic Illness Therapy (FACIT)-quality-of-life and Piper Fatigue Scale (PFS) questionnaires at baseline and at 30 weeks, and underwent a 6-minute walk test at baseline and every 3 months. Patients with CRC had surgical sections stained for β-catenin and correlated to survival.
At 30 weeks, no significant improvements were observed in FACIT and PFS scores, but aerobic capacity improved significantly.
All patients with CRC trended towards lower risk of mortality with strong nuclear staining for β-catenin compared with weak staining, but CRC patients in the exercise program had a trend towards lower mortality with weak nuclear staining.
The authors attempt to clarify the relationship between exercise, its effect on cancer-specific outcomes, and a potential biomarker that may predict cancer sensitivity to exercise.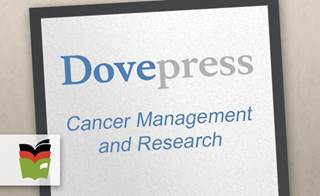 Cancer Management and Research
Introduction: Exercise can improve the symptoms of cancer. However, is it a cancer treatment? We tested the feasibility of group exercise for metastatic cancer patients while on chemotherapy. A biomarker for exercise efficacy in colorectal cancer (CRC), β-catenin, was tested.
Methods: Patients undergoing palliative chemotherapy were eligible for a pre–post, single-arm study comprising an indefinite, weekly group exercise intervention using strength and aerobic training. The Functional Assessment of Chronic Illness Therapy (FACIT) and Piper Fatigue Scale (PFS) questionnaires were administered, and aerobic capacity assessed using the 6-minute walk test. Selection bias, as measured by invitation rate, as well as participation, compliance, and attrition rates, was measured. CRC patients had surgical sections stained for β-catenin and correlated to survival. The statistical analysis was primarily exploratory and hypothesis generating.
Results: Of the 124 eligible patients, 53 (43%) patients were invited and 35 (28%) patients participated. The median number of classes attended was 16, the compliance rate was 73.1% (95% confidence interval [CI] 67.0–79.4), and the modified attrition rate was 24%. There were no injuries. No significant improvements were seen in the FACIT or PFS at 30 weeks. Aerobic capacity significantly improved at 30 weeks. Participation of CRC patients in the exercise pilot vs nonparticipation was not associated with a change in survival (hazard ratio [HR] =0.98, 95% CI 0.32–2.97). For all CRC patients, strong nuclear staining for β-catenin, compared to weak, suggested a lower risk of mortality (HR =0.54, 95% CI 0.14–1.96). However, CRC participants in the exercise program with weak nuclear staining for β-catenin had a trend to lower mortality (HR =0.39, 95% CI 0.025–6.1).
Conclusion: Exercise for patients with metastatic cancer receiving chemotherapy is feasible and safe. β-Catenin is a potential biomarker for exercise anticancer effect in CRC.

---
Keywords:
strength training, aerobic training, colorectal cancer, compliance rate, attrition rate, fatigue
---
INTRODUCTION
The emerging field of exercise oncology is trying to determine whether exercise can impact cancer-specific outcomes. Research has already looked at how exercise can improve cancer symptoms of fatigue and physical fitness.1,2 Epidemiological evidence suggests that individuals who are active have a lower risk of developing cancer.3 Similarly, active individuals with early-stage cancer have a lower risk of cancer relapse.4 Exercise may have anticancer effects similar to standard systemic treatments;3however, this is yet to be proven in prospective randomized trials. The anticancer effect of exercise may be most easily seen in the metastatic setting, similar to the evaluation of investigational systemic treatments.
Exercise for patients with early stage cancer undergoing treatment is safe.5 This pilot study evaluates the feasibility of exercising individuals with incurable metastatic malignancy receiving chemotherapy. Additionally, the proportion of such individuals invited to exercise, selection bias, attrition and compliance rates, and treatment dose intensity (DI)6 of participants was measured.
Beyond exercise's improvements in patient-related outcomes and fitness, there is now substantial interest in cancer-related outcomes. These outcomes have significant variability among patients, and efforts are being made understand these differences.7 Genetic and molecular markers may be the predictors of these responses and help guide patient selection.
A biomarker that may predict sensitivity of colorectal cancer (CRC) to exercise is β-catenin, part of the WNT signaling pathway.8 This pathway is involved in both colorectal carcinogenesis and energy metabolism. In this study, the survival of patients with metastatic CRC participating in the exercise pilot was compared with those not participating using β-catenin nuclear staining to predict exercise effect on survival.