April 25, 2016
Corticosteroid Prophylaxis Reduces Risk of Graft-versus-host Disease in Patients Undergoing Haploidentical Transplantation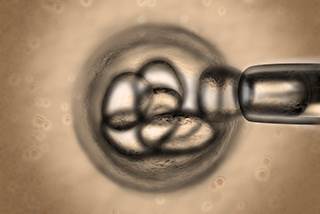 Magnified stem cells
Prophylactic low-dose corticosteroid was significantly associated with low risk of acute graft-versus-host disease (GVHD) grades II to IV and rapid platelet recovery in patients undergoing haploidentical transplantation, a study published online ahead of print in the Journal of Clinical Oncology has shown.1
Morbidity caused by GVHD may the limit the success of stem cell transplantation in patients. In this study, researchers investigated the effectiveness of a risk-stratification–directed prophylaxis strategy designed to reduce the 100-day incidence of acute GVHD grades II to IV.
In this study, 228 patients who underwent haploidentical transplantation were categorized as low risk (group A; n = 83) or high risk based on bone marrow allogeneic graft CD4:CD8 ratios. Patients at high risk were randomly assigned to receive low-dose corticosteroid prophylaxis (group B; n = 72) or not receive the intervention (group C; n = 73).
One-hundred–day corticosteroid doses were 205 ± 111 mg for group B, 229 ± 149 mg (P = .256) for group A, and 286.54 ± 259.67 mg (P = .016) for group C.
Incidence of GVHD in group B was 21% (95% CI, 11% to 31%); in group A, 26% (95% CI, 16% to 36%; P = 43); and in group c, 48% (95% CI, 32% to 60%; P < .001). Low-dose corticosteroid prophylaxis resulted in relatively low risk of acute GVHD grades II to IV (hazard ratio, 0.66; 95% CI, 0.49 to 0.89; P = .007) and rapid platelet recovery (hazard ratio, 0.30; 95% CI, 0.23 to 0.47; P < .001).
Moderate-to-severe chronic GVHD incidence was lower in group B (21%) compared with group A (50%; P = .025) and group C (36%; P = .066).
Compared with group C, group B showed significantly lower incidences of femoral head necrosis (P = .034) and hypertension (P = .015). Infection rates were comparable in both groups.
"Our results suggest that risk-stratification–directed, low-dose corticosteroid prophylaxis significantly decreased the incidence of acute GVHD grades II to IV, accelerated platelet recovery, and reduced adverse events without increasing infections," concluded the researchers.
REFERENCE
1. Chang YJ, Xu LP, Wang Y, et al. Controlled, randomized, open-label trial of risk-stratified corticosteroid prevention of acute graft-versus-host disease after haploidentical transplantation [published online ahead of print April 18, 2016]. J Clin Oncol. doi:10.1200/JCO.2015.63.8817.