September 13, 2016
Carmustine Infusion Reactions Occur Despite Extending Infusion Duration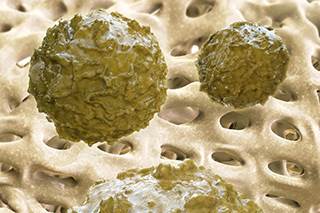 Carmustine Infusion Reactions Occur Despite Extending Infusion Duration
Infusion reactions during administration of high-dose carmustine as part of the BEAM conditioning regimen are common and do not appear to be reduced by modestly extending the duration of infusion or giving premedications, according to a study published in the journal Supportive Care in Cancer.1
Patients with lymphoma may receive the conditioning regimens BEAM or CBV prior to receipt of autologous hematopoietic stem cell transplantation. Although carmustine-related infusion reactions are common during CBV administration, there are limited data on the incidence of carmustine-related infusion reactions during BEAM administration.
For the study, investigators analyzed data from 100 patients who received carmustine, as part of BEAM or Zevalin BEAM, either over 90 minutes or 120 minutes.
Results showed no significant difference in the incidence of infusion reactions between those who received carmustine over 90 minutes and those who received it over 120 minutes (56% vs 52%; P =.6882).
Among patients who developed an infusion reaction, 67% of patients in the 90-minute group and 100% of those in the 120-minute group received premedications, which predominantly included acetaminophen and dexamethasone.
Furthermore, 57% and 65% of patients in the 90-minute group and 120-minute group, respectively, who experienced an infusion reaction received additional intervention (P =.53).
Reference
1. Perreault S, Baker J, Medoff E, et al. Infusion reactions are common after high-dose carmustine in BEAM chemotherapy and are not reduced by lengthening the time of administration. Supp Care Cancer. 2016 Sep 10. doi: 10.1007/s00520-016-3399-4. [Epub ahead of print]