December 09, 2015
Adding Carboplatin to Neoadjuvant Therapy for Triple-negative Early Breast Cancer Improves Disease-free Survival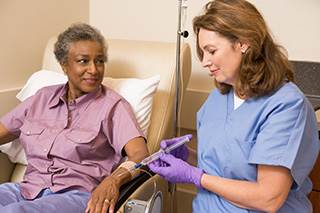 Adding Carboplatin to Neoadjuvant Therapy for Triple-negative Early Breast Cancer Improves Disease-free Survival
SAN ANTONIO, TX—Carboplatin added to anthracycline/taxane-based neoadjuvant chemotherapy significantly improved pathological complete response (pCR) rates in patients with triple-negative breast cancer (TNBC) in two large phase IIb studies: GeparSixto and CALGB 40603. Researchers reported on disease-free survival (DFS) for GeparSixto after median 35 months of observation at the 2015 San Antonio Breast Cancer Symposium.1
Carboplatin added to anthracycline/taxane-based neoadjuvant chemotherapy improves pCR rates in patients with TNBC in 2 large phase II studies: GeparSixto and CALGB 40603. Participants in the GeparSixto study with TNBC showed an improvement in pCR rate from 36.9% to 53.2% with the addition of carboplatin (P=.005); however, no statistically significant difference in pCR rate was observed in the HER2-positive subgroup (36.8% vs 32.8%, respectively).
A greater benefit with carboplatin was observed in patients with BRCA mutations or a high homologous recombination deficiency (HRD score) in the tumor (pCR rate of 30% compared with 10% for patients without HRD). At this time, whether these effects on pCR translate into a survival benefit for patients is unknown.
In the GeparSixto trial (NCT01426880), patients were treated for 18 weeks with paclitaxel (P) 80 mg/m2 once a week and non-pegylated-liposomal doxorubicin (M) 20 mg/m2 once a week. All patients were randomized 1:1 to receive concurrently carboplatin (Cb) once a week, stratified by subtype (HER2+ vs TNBC). Carboplatin dose was reduced from AUC 2.0 to 1.5 by an amendment after enrollment of 330 patients. Patients with TNBC (N=315) received concurrently bevacizumab 15 mg/kg every 2 weeks until surgery.
Primary end point was pCR rate (ypT0 ypN0). Loco-regional invasive recurrence free survival, distant-disease-free survival, invasive disease-free survival, and overall survival were secondary objectives.
A total of 595 patients were recruited in 51 German centers, 296 patients were randomly assigned to receive carboplatin (PMCb) and 299 to no additional carboplatin (PM). Of the total study population, 295 assigned to PMCb and 293 assigned to PM started treatment. Primary end point of pCR was 43.7% in the PMCb group and 36.9% in the PM group.
DFS at 36 months in all patients was 104/293 in the PM group and 95/295 in the PMCb group; in patients with HER2+ breast cancer, 54/136 and 45/137, respectively; and in patients with TNBC, 50/157 and 50/158, respectively. pCR rates by germline BRCA (gBRCA) status and carboplatin in patients with TNBC were 33.1% in the PM group and 50.8% in the PMCb group for gBRCA wt status and 50.0% and 61.5%, respectively, for gBRCA mut status.
The researchers conclude carboplatin improved DFS substantially in patients with TNBC, but showed no effect in patients with HER2+ breast cancer. A strong positive effect of carboplatin on pCR and DFS was observed in patients with gBRCA wt status. They also report favorable prognosis after pCR was confirmed and is independent of gBRCA status. GeparSixto results support the use of carboplatin as part of neoadjuvant treatments in all patients with TNBC.
REFERENCE
1. von Minckwitz G, Loibl S, Schneeweiss A, et al. Early survival analysis of the randomized phase II trial investigating the addition of carboplatin to neoadjuvant therapy for triple-negative and HER2-positive early breast cancer (GeparSixto). Oral presentation at: San Antonio Breast Cancer Symposium; December 8-12, 2015; San Antonio, TX.