December 14, 2016
MOCHA App Facilitates Communication Between Caregivers, Patients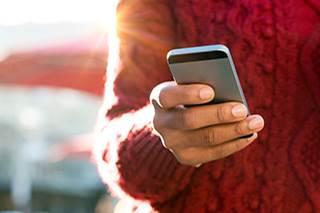 Mobile devices can provide a useful platform for health care monitoring.

SAN ANTONIO – A mobile app provides a platform for health care monitoring and secure communication functions between caregivers and patients with breast cancer, according to a poster presented at the 2016 San Antonio Breast Cancer Symposium (SABCS).1

"Hospitals face many challenges in effective care coordination for postsurgery breast cancer patients, especially with scarce resources and limited availability of nurse navigators for care transition and posthospitalization follow-up," said Tiancheng He, PhD, Houston Methodist Hospital and Research Institute, Houston, Texas. "Mobile health provides an inexpensive and convenient means of real time care monitoring and communication between patients and care providers."

However, most current health apps focus on individual consumers and gather information from their daily lives without integrating clinical workflow or capturing physiologic and activity data into electronic medical records that can be used for real-time monitoring, patient surveillance, and professional care.

Therefore, researchers at Houston Methodist Hospital developed and implemented a coordinated care mobile app for posthospitalization patients with breast cancer from the perspective of a primary care institution. This app is called MOCHA (Methodist Hospital Cancer Health Application) and supports both iOS and Android platforms.

Dr He explained that the aim of the app is to provide both caregivers and patients with cancer a flexible and secured platform that can be used to: monitor patient progress after posthospitalization, identify high-risk patients, reduce readmissions, and enable better patient-physician engagement.

MOCHA exchanges health care data in real time with the institution's clinical data center. The app also searches a nutrition database for nutritional information and uses personal trackers such as Fitbit to include patients' daily activities.

Health care providers can then access the compiled data that MOCHA provides to improve the quality of care coordination. Evaluation of the app's utility is ongoing and will be presented in the future.

Reference

1. He T, Ogunti R, Yu X, et al. MOCHA: An institution-based care coordination app for posthospitalization breast cancer patients. Poster presented at: 2016 San Antonio Breast Cancer Symposium; December 6-10, 2016; San Antonio, TX.