Reflections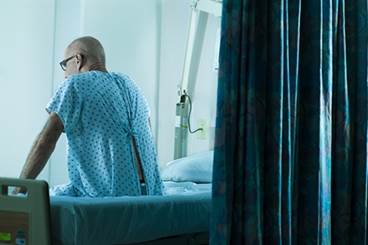 Patient advocacy can lead nurses to take on great challenges in the course of caring for their patients or to brave the elements to retrieve replacements for a patient's missing clothes.

A new oncology nurse reflects on the first time she provided comfort care for a patient at the end of life and her family.

Patient expectations, clinician perception, and institutional objectives create a perfect storm of conflicting interests regarding pain management, especially given the current trend to control opioid use.

Approximately 97% of men with advanced prostate cancer report being comfortable discussing their symptoms with their health care team. But the number of men who actually do so is significantly lower.

Many patients place too high a value on the effectiveness of tumor markers in demonstrating their posttreatment status. Even after offering a detailed explanation of the true worth of these tests, the author's patient still wants to know, "Are you going to order my tumor markers?"
Effective weight management can enhance cancer treatment, improve patient outcomes, and reduce incidence of recurrence and mortality. As with encouraging smoking cessation, oncologists should talk to patients about achieving and maintaining a healthy weight.

Clinical trials could benefit from a greater number of participants with a dedicated cooperative network to support rural community cancer centers.

After participating in a mission trip, an oncology nurse realizes she got more out of her African adventure than she gave to the children of the small village outside Nairobi, Kenya.

Have you ever felt the lasting effect of overhearing an offhand criticism about a clinical decision you made? This nurse reminds her colleagues that they need to advocate for their care as well as their patients.

End-of-life care and decisions can be difficult for health care providers. Consulting the ethics committee can provide needed support for the final decision.
Sign Up for Free e-newsletters
Regimen and Drug Listings
GET FULL LISTINGS OF TREATMENT Regimens and Drug INFORMATION