Radiation and Your Patient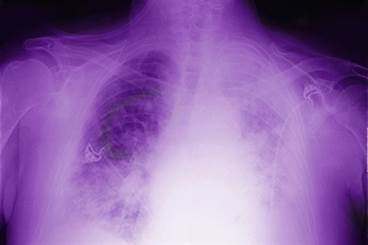 Research into the potential of radiation therapy in the management of mesothelioma may improve the prognosis, and possibly extend progression-free survival, for patients with this incurable cancer.
Advances in breast imaging such as DBT offer better, clearer images of breast tissue that can identify even low-grade DCIS tumors. But will more sensitive imaging lead to improved outcomes or increased overtreatment?

This review of radiodermatitis, a common adverse effect of radiation therapy, discusses preventive and treatment options available that reduce and/or minimize symptoms of the condition.

At $225 million per system, the precision of proton beam radiotherapy is not necessarily overshadowing its high costs. Yet ongoing studies seek to determine how this technology fits into current treatment regimens for prostate, breast, and other cancers.

Researchers present the results of a survey of patients with breast cancer who underwent radiation therapy to assess the difference between their pretreatment expectations and their actual experience.

A report from a phase 3 study on the 5-year failure-free survival of women with endometrial cancer treated with radiation therapy alone vs chemoradiotherapy plus adjuvant chemotherapy.

Propensity score-matched study compared adjuvant radiotherapy with surveillance and early-salvage radiotherapy after prostatectomy in men with prostate cancer.

In an effort to find alternatives to cisplatin as a radiation sensitizer, due to its dose-dependent toxicity and resistance, researchers are exploring food-based options such as blueberry extract.

Cardio-oncology is an emerging interdisciplinary practice poised to address care patients who need concurrent cancer and cardiovascular disease therapies as well as the late effects of cancer and cancer treatments.

A phase 2, randomized study investigated the effectiveness of oral curcumin, a component of turmeric, in reducing radiation dermatitis severity in patients undergoing radiation therapy for breast cancer.
Sign Up for Free e-newsletters
Regimen and Drug Listings
GET FULL LISTINGS OF TREATMENT Regimens and Drug INFORMATION