May 21, 2015
A spectrum of cutaneous toxicities from erlotinib may be a robust clinical marker for non-small-cell lung therapy: a case report and literature review
the ONA take:
According to a case report and literature review, researchers from Shandong Cancer Hospital and Institute in China have found that some patients with non-small-cell lung cancer (NSCLC) who experience a spectrum of cutaneous toxicities during erlotinib treatment may have a good tumor response.
In the case report, researchers describe a 59-year-old woman with no history of smoking who was diagnosed with stage IV lung adenocarcinoma with metastases to the brain. After receiving six cycles of platinum-based chemotherapy and radiation therapy, which shrunk the lesions, pulmonary metastasis was identified via computed tomography (CT).
She was started on erlotinib 150mg daily monotherapy after a genetic test showed EGFR exon 19 deletion, but she experienced a multitude of cutaneous toxicities, such as rashes on her face and upper trunk, papulopustular rashes, and paronychia, as well as diarrhea and mucositis. Despite the various adverse events, a restaging CT scan showed that her primary lung tumors and brain metastases achieved stable disease while the pulmonary metastases almost completely responded to treatment.
The findings suggest that clinicians may be able to predict erlotinib monotherapy efficacy in patients with NSCLC without determining patients' EGFR mutation status.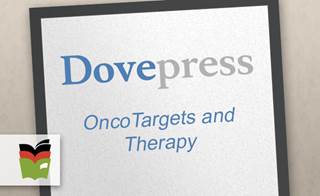 OncoTargets and Therapy
Abstract: Some literature suggests that an EGFR inhibition-induced rash can be used as a clinical marker, but few studies report the correlation between a spectrum of cutaneous toxicities from EGFR inhibition and drug efficacy. We report about a woman with a stage IV lung adenocarcinoma using erlotinib monotherapy, who experienced a spectrum of cutaneous toxicities, including papulopustular rash, mucositis, pruritus, xerosis, paronychia, and facial hirsutism. With treatment, her metastatic lesions shrunk remarkably. This report suggests that some non-small-cell lung cancer patients experiencing a spectrum of cutaneous toxicities might have a good tumor response using erlotinib monotherapy. Our findings may provide a method for clinicians to predict erlotinib efficacy in non-small-cell lung cancer therapy without knowledge of the EGFR mutation status.

Keywords: cutaneous toxicity, epidermal growth factor receptor inhibition, erlotinib, clinical marker, non-small-cell lung cancer
Introduction
In recent years, EGFR inhibition has been widely used for the treatment of patients with various solid tumors, including non-small-cell lung cancer (NSCLC). It has resulted in valuable clinical responses, but has also resulted in varying adverse effects. Cutaneous events represent the more relevant toxicities in terms of frequency and patient discomfort.1 Commonly experienced cutaneous adverse effects include papulopustular rash, perifollicular xanthoma, xerosis cutis/pruritus, eczema craquele, fissures/rhagades, paronychia, hypertrichosis and hair follicle abnormalities.2 Incidences of these adverse effects are frequent, and approximately 36% of patients show mucositis and 80% show papulopustular (acneiform) rash.3 However, there is a low incidence of some adverse effects, such as paronychia and facial hypertrichosis.4 We have treated a patient experiencing a spectrum of erlotinib-induced cutaneous toxicities, but the patient showed a higher tumor response to therapy.