March 29, 2017
Hypofractionated RT, Conventional RT Comparable in Intermediate-Risk Prostate Cancer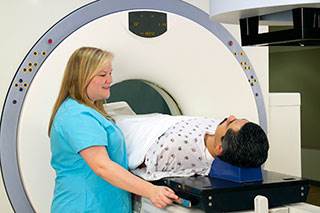 Recently developed radiotherapy techniques afford improved precision with less risk for damage to local tissues.
A hypofractionated regimen with modern precision radiotherapy (RT) was not inferior to conventional radiotherapy in intermediate-risk prostate cancer, according to a paper published in the Journal of Clinical Oncology.1
"We conducted a randomized clinical trial looking at a way of improving radiation therapy for men with intermediate-risk prostate cancer. Using modern radiation therapy techniques that are very precise, we determined there was no noticeable difference between 8-week and 4-week treatment regimens in terms of cancer control or side effects of treatment," said author and investigator Charles N Catton, MD, of the Cancer Clinical Research Unit and Princess Margaret Cancer Centre in Toronto, in a news release.2
Localized prostate cancer is traditionally treated over 8 to 9 weeks with external beam RT. Recently developed radiotherapy techniques such as 3-D conformal RT and intensity-modulated RT with imaging affords higher doses and improved precision with less risk for damage to local tissues and radiation toxicity in prostate cancer treatment.
Investigators sought to determine if hypofractionated RT with modern techniques were as effective as conventional RT without added toxicity with a multicenter, randomized noninferiority trial in patients with intermediate-risk prostate cancer.
Participants were included if they were diagnosed with intermediate-risk prostate cancer without evidence of metastasis to the bones or lymph nodes. Randomization was to a conventional RT group with 8 weeks of 78 Gy in 39 fractions or to a hypofractionated RT group with 4 weeks of 60 Gy in 20 fractions.
Patients were followed every 6 months for toxicity and prostate-specific antigen (PSA). The primary outcome was biochemical-clinical failure with evidence of PSA elevation, hormonal treatment, local or distant disease, or prostate cancer–related death.
Of the 1206 participants, 608 were assigned to the hypofractionated arm and 598 were assigned to the conventional arm and followed for a mean of 6 years. Biochemical-clinical failures were reported in 109 and 117 participants in the hypofractionated and conventional groups, respectively, and were most commonly PSA failures.
The 5-year disease-free survival rate was 85% for both arms with a hazard ratio of 0.96 (90% CI, 0.77-1.2). The prostate cancer–related death rate was similar in both groups (10 in the hypofractionated vs 12 in the conventional group, HR 0.76, 95% CI, 0.32-1.82). Both groups had similar rates of grade 3 or higher late gastrointestinal and genitourinary toxicities.1
"In fact, for some men, the shorter regimen meant slightly fewer side effects (particularly regarding bowel function) and therefore improved quality of life. The compressed course of treatment is of great benefit to patients and also to the system in terms of being able to treat more patients in less time," Dr Catton continued in the statement.2
References
1. Catton CN, Lukka H, Gu CS, et al. Randomized trial of a hypofractionated radiation regimen for the treatment of localized prostate cancer. J Clin Oncol. 2017 Mar 15. doi: 10.1200/JCO.2016.71.7397.
2. Prostate cancer clinical trial shows treating with precision radiotherapy reduces course of treatment by 50 per cent [news release]. Toronto, Canada: University Health Network; March 16, 2017. http://www.uhn.ca/corporate/News/PressReleases/Pages/prostate_cancer_clinical_trial_shows_treating_with_precision_radiotherapy_reduces_course_of_treatment.aspx. Accessed March 22, 2017.