May 07, 2018
Challenges of Shared Decision Making in Prostate Cancer Screening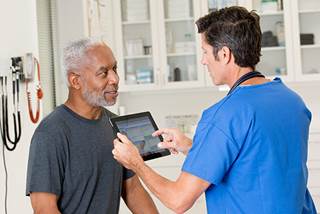 The April 2017 update to the USPSTF recommendations indicate healthcare providers should inform patients ages 55 to 69 about the pros and cons of PSA screening.
General consensus across guidelines support shared-decision making (SDM) between a clinician and patient regarding screening for prostate-specific antigen (PSA). SDM is particularly important as recommendations for PSA screening have changed rapidly over the previous decade and vary based on the recommending body. Although recommendations for PSA screening vary across organizations, most of these organizations now encourage SDM discussions in their recommendations.1
Guidelines
PSA screening guidelines and the role SDM should play do not always align across organizations, and they are often quickly changing. The American Cancer Society (ACS), American College of Physicians, and American Urological Association emphasize the importance of SDM for PSA testing beginning at age 50 to 55 years.2-4
In 2012, the United States Preventive Services Task Force (USPSTF) recommended against routine PSA testing for patients of all ages, with SDM not coming into play in these recommendations. Nonetheless, they do state that SDM should be used if patients request PSA screening and if healthcare providers continue to provide PSA screening.5
Continuing with the evolution of guidelines, the April 2017 update to the USPSTF recommendations indicate healthcare providers should inform patients ages 55 to 69 about the potential benefits and drawbacks to PSA screening, stating that the decision to undergo screening is ultimately up to each patient. The USPSTF gave these updated recommendations a C grade, meaning, "The USPSTF recommends selectively offering or providing this service to individual patients based on professional judgment and patient preferences. There is at least moderate certainty that the net benefit is small." In clinical practice, it means only selected patients should receive this option, based on individual patient circumstances.6
Discussion Elements
SDM discussions on PSA testing should include 3 elements: the advantages, the disadvantages, and the uncertainties. In this study, SDM comprising 1 element was patients learning only about advantages of PSA screening, 2 elements was patients learning about advantages and disadvantages, and full SDM was patients learning about all 3 elements.
Advantages According to the 2017 USPSTF recommendations, PSA screening can identify high-risk, localized prostate cancer that could be successfully treated and can prevent the development of metastatic disease in men 55 to 69 years.6 Guidelines from other organizations generally align with this, and for some patients, screening is an important part of preventive health.2-4
Disadvantages The ACS notes that "although the benefits of prostate cancer screening are uncertain, the burdens associated with the early detection and treatment of prostate cancer are known."2 In addition, adverse events from therapy can affect urinary, bowel, sexual, and other areas of health. These effects can be temporary or permanent, and minimal or serious.
Uncertainties The ACS emphasizes that in men with prostate cancer detected by PSA screening, predicting which patients are likely to benefit from therapy is not possible. Furthermore, the ACS guidelines note that some men who undergo treatment will avoid death and disability as a result, while others who undergo treatment would have died from unrelated causes prior to the cancer becoming sufficiently serious to affect quality of life or cause death.2
Other guidelines seem aligned with these uncertainties, with the 2017 USPSTF guidelines only conferring a letter grade of C to screening. PSA screening might be associated with a decreased risk of death from prostate cancer, but conflicting evidence exists on the value of screening.