December 21, 2016
Most Common Reason for Prostate Cancer Second Opinions: More Information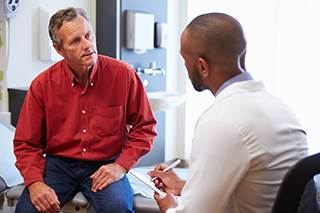 Why do men really seek out a second opinion before starting prostate cancer treatment?
Men with newly diagnosed prostate cancer often follow the advice of the National Cancer Institute and the American Cancer Society and get a second opinion prior to beginning treatment. Armed with that new information, however, most men do something surprising: they stick with their original treatment choice. If not to change their treatment choice, why did they seek out a second opinion, and from whom?
Researchers at Johns Hopkins University and the University of Pennsylvania surveyed patients with prostate cancer to determine which men seek a second opinion and their reasons for doing so. The researchers also sought to learn what impact the new opinions have on patients' treatment choices and quality of cancer care. Results were published in a report in the journal Cancer. 1
Chronic vs Acute Disease
Prostate cancer was diagnosed in an estimated 180,890 men in 2016. The high number indicates that the disease represents a significant health burden in the United States.1 However, the Centers for Disease Control and Prevention (CDC) reports that although most men with prostate cancer are older than 65 years, it is a slow-growing disease and many do not die from it. Furthermore, the CDC states that diagnosis and treatment before the onset of symptoms may not improve a patient's health or lead to a longer life.2
Treatment options for localized prostate cancer vary from surgery and radiation therapy to active surveillance, also known as watchful waiting. Benefits and costs vary accordingly.
For the study on second opinions, investigators surveyed approximately 2400 men in the Philadelphia area with localized prostate cancer diagnosed between 2012 and 2014. Survey participants were registered in the earlier Philadelphia Area Prostate Cancer Access Study, a cohort study of black and white men (average age 65.4 years). The purpose of the Philadelphia Area Prostate Cancer Access Study was to analyze the relationship between prostate cancer severity and neighborhood deprivation and socioeconomic status in a diverse patient population, which represented the Southeastern Pennsylvania's general population.3