August 01, 2016
Quality of Life Not Affected by Active Surveillance of Prostate Cancer
This article originally appeared
here.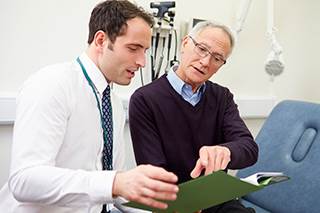 Quality of Life Not Affected by Active Surveillance of Prostate Cancer
(HealthDay News) -- Men with low-risk prostate cancer report a good quality of life after choosing active surveillance as a treatment for their disease, according to research published in the August issue of The Journal of Urology.
The new study included 89 American men with low-risk prostate cancer and 420 men without the disease.
Over three years of follow-up, there were no significant differences between the two groups in health-related quality of life.
"Our results suggest that for at least three years, men selecting active surveillance do not experience a substantial psychological burden or clinically significant problems due to untreated disease," lead investigator Christopher Porter, M.D., from the Virginia Mason Medical Center in Seattle, said in a journal news release. "The potential clinical impact of these results is significant and will allow clinicians to counsel patients effectively in regard to the potential health-related quality-of-life outcomes associated with active surveillance."
Abstract
Full Text (subscription or payment may be required)