January 22, 2010
Pancreatic cancer
SECTION 1: AETIOLOGY AND DIAGNOSIS

Aetiology of pancreatic cancer
Pancreatic cancer kills more than 6,000 people annually in the UK and is the sixth most common cause of cancer death. The annual incidence is 100 per million population and 80 per cent of cases occur at 60-80 years of age.

Pancreatic cancer kills more than 6,000 people annually in the UK and is the sixth most common cause of cancer death. The annual incidence is 100 per million population and 80 per cent of cases occur at 60-80 years of age.

Pancreatic cancer kills more than 6,000 people annually in the UK and is the sixth most common cause of cancer death. The annual incidence is 100 per million population and 80 per cent of cases occur at 60-80 years of age.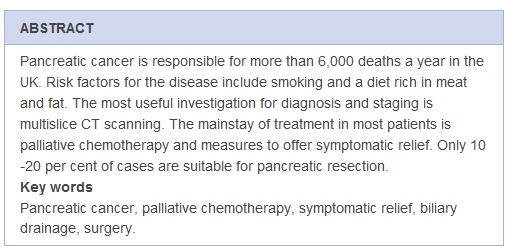 The disease is a cancer of affluent countries, with the highest incidence in Japan, Israel, Canada, Sweden, the UK, and the US. Risk factors include smoking, a diet high in meat and fat, exposure to chemicals (for example, naphthylamine, benzidine, and ethylene dichloride), and previous partial gastrectomy.
Patients are statistically more likely to have a family history of the disease, although most cases occur sporadically. Inherited conditions associated with pancreatic cancer include hereditary pancreatitis and hereditary non-polyposis colon cancer.
Ductal adenocarcinoma of the pancreas accounts for more than 90 per cent of all malignant exocrine tumours and two-thirds of cases arise in the head of the pancreas. The most common extra-lymphatic sites of spread are the liver, peritoneum, and lung.
Carcinoembryonic antigen and immunohistochemical staining with CA 19-9 (the level corresponds to tumour volume and is mainly used in the follow-up of treated patients) characterise the tumour. It is staged using the tumour, nodes, metastases (TNM) classification, which correlates with survival.T, the primary tumour, has four stages, from T0 (no evidence of primary tumour) to T3 (tumour extends directly to stomach, spleen, colon or adjacent large vessels). N is regional lymph nodes - N0 (no regional lymph node metastases) or N1 (regional lymph node metastases). M is distant metastases - M0 (no distant metastases) or M1 (distant metastases).
Ductal adenocarcinomas need to be differentiated from other periampullary tumours, because they have a similar presentation but a better prognosis. Usually this differentiation of diagnoses is not possible until the resected specimen is examined.
Diagnosis of pancreatic cancer
Presentation varies according to the site of the primary tumour. In carcinoma of the head of the pancreas, obstructive jaundice, abdominal pain, and weight loss are the most common symptoms. Nausea and vomiting occur in 30-50 per cent of patients, but duodenal obstruction only occurs in about 5 per cent. Jaundice is progressive and results from obstruction or compression of the common bile duct. Pain is usually epigastric and radiates to the back in 25 per cent of cases; this may indicate posterior capsular invasion and unresectability.
Carcinomas of the body or tail of the pancreas are more advanced at presentation owing to the absence of jaundice. The presentation of these cases is usually with weight loss, anorexia and back pain.
Investigations aim to confirm diagnosis, stage the disease and assess resectability. The initial investigation of the jaundiced patient should include transabdominal ultrasound, which will show any biliary dilation or the presence of gallstones. Overall diagnostic sensitivity in detecting tumours is approximately 70 per cent, falling to below 30 per cent for tumours less than 2cm in diameter.
Multislice contrast enhanced CT using a dedicated pancreatic protocol is the most useful technique for the diagnosis and staging of pancreatic tumours. False positives occur in 10 per cent; this underlies the importance of obtaining histological confirmation in patients with unresectable tumours. Other investigations are listed in Box 1.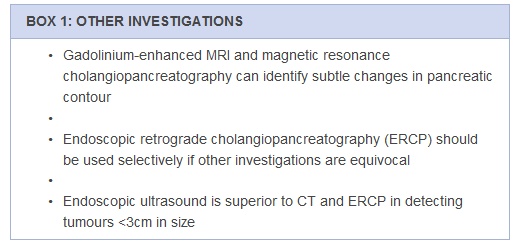 SECTION 2: TREATMENT AND PALLIATIVE MANAGEMENT
The mainstay of treatment is palliative chemotherapy and symptomatic relief. Those patients with unresectable locally advanced tumours have median survivals of six to 10 months, while in those with metastatic disease, it is two to six months.
Chemotherapy can improve the quality of life, with a modest improvement in survival. Gemcitabine is the agent of choice for advanced pancreatic cancer,1 but combination chemotherapy may be of benefit in certain patients.2,3 Common side-effects include nausea, vomiting, bone marrow suppression, risk of infection, mucositis, diarrhoea, influenza-like symptoms, rash, fluid retention and peripheral oedema. Symptomatic treatment aims to relieve jaundice and associated pruritus, relieve or prevent duodenal obstruction, and provide pain control.
Relief of obstructive jaundice by biliary drainage can normalise liver function and prevent liver failure, reverse coagulopathy, correct metabolic derangements, and improve nutritional status and well-being.
Drainage using endoscopic biliary stents has a success rate of about 90 per cent. Self-expanding metallic stents appear to have better long-term patency than plastic stents.4 Metallic stents are also less likely to migrate. Complications include acute pancreatitis and perforation of the bile duct or duodenum.
Percutaneous biliary stenting is an alternative if endoscopic stent placement fails or is impossible. Complications include bleeding, cholangitis and biliary peritonitis. Operative drainage may be achieved by choledochojejunostomy and appears to be as effective as stenting for short-term relief of jaundice. The operation is associated with a lower risk of cholangitis, but can mean a longer hospital stay and slower recovery in patients who only have a mean survival of four months from diagnosis. There is also a higher 30-day mortality and greater morbidity than stent placement. Gastric outlet obstruction may be relieved with palliative surgery or by endoscopic placement of expandable metal stents in the duodenum.
Severe pain is a common problem with tumours of the body and tail of the pancreas, and with invasive tumours of the head of the pancreas. Multimodal analgesics should be employed according to the WHO analgesic ladder and in co-operation with specialist palliative care and pain management teams (see Box 2).

SECTION 3: SURGICAL MANAGEMENT
Only 10-20 per cent of patients are amenable to pancreatic resection, reflecting the normally advanced stage of disease at presentation. Nearly half of all patients have distant spread of tumour and one-third have locally advanced disease. Distant metastases are an absolute contraindication to resection.
Preoperative preparation of the jaundiced patient is essential. Preoperative biliary stenting is associated with increased morbidity following surgery for pancreatic cancer5 and should be avoided. Complete macroscopic resection offers the only hope for prolonging survival. Proximal pancreatoduodenectomy remains standard for tumours of the head of the pancreas. Distal pancreatectomy and splenectomy are indicated for lesions in the body and tail. Improved perioperative care and centralisation of treatment in specialised centres have reduced surgical mortality rates to 5 per cent, although morbidity remains high. Major complications include delayed gastric emptying, pancreatic fistula, intra-abdominal abscess, pancreatitis, and leakage of bile.
One in 10 patients will require further surgery and the mortality rate in this group is 60 per cent. Overall survival has changed little, despite advances in diagnosis and perioperative management. Median survival for resection with curative intent is 11-15 months; five-year survival is about 10 per cent. The key determinant of long-term survival is resection margin status; other independent predictors include tumour size, grade and nodal involvement.6 Adjuvant chemotherapy (5-fluorouracil and folinic acid) in resected patients further improves survival and should be considered in all patients undergoing resection.7
Mr. Sherif Awad is a specialist registrar and Mr. Ian J. Beckingham is consultant general surgeon at the Wolfson Digestive Diseases Centre, Queen's Medical Centre, Nottingham. Competing interests: None declared 
References
1. NICE. Guidance on the use of gemcitabine for the treatment of pancreatic cancer. TA25. NICE, London, May 2001.
2. Heinemann V, Hinke A, Boeck S et al. Gemcitabine-based combinations (gem+x) vs gemcitabine (gem) alone in the treatment of advanced pancreatic cancer. J Clin Oncol 2007;25:4515.
3. Cunningham D, Chau I, Stocken D et al. Phase III randomised comparison of gemcitabine (GEM) versus gemcitabine plus capecitabine (GEM-CAP) in patients with advanced pancreatic cancer (abstract PS11). Eur J Cancer 2005;3 (Suppl):4.
4. Lammer J, Hausegger KA, Fluckinger F et al. Common bile duct obstruction due to malignancy: treatment with plastic versus metal stents. Radiology 1996;201:167-72.
5. Heslin MJ, Brooks AD, Hochwald SN et al. A preoperative biliary stent is associated with increased complications after pancreatoduoden- ectomy. Arch Surg 1998;133:149-54
6. Pitt HA. Curative treatment for pancreatic neoplasms. Standard resection. Surg Clin North Am 1995;75:891-904.
7. Neoptolemos JP, Dunn JA, Stocken DD et al. Adjuvant chemoradiotherapy and chemotherapy in resectable pancreatic cancer. Lancet 2001;358:1576-85.
Originally published in the March 2009 edition of MIMS Oncology & Palliative Care.