September 12, 2016
Inpatient Palliative Care Improves QoL for Patients Hospitalized for HCT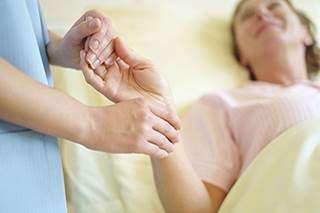 Palliative care
Palliative care improved quality of life, depression, anxiety, and symptom burden in patients with hematologic malignancies hospitalized for hematopoietic stem cell transplantation (HCT), a study presented at the 2016 Palliative Care in Oncology Symposium has shown.1
During HCT, patients often experience physical and psychosocial symptoms that negatively affect their quality of life. Therefore, researchers sought to evaluate how an inpatient palliative care intervention impacts quality of life, symptom burden, and mood during hospitalization for HCT and at 3 months following HCT.
For the study, investigators enrolled 160 patients with hematologic malignancies admitted for autologous or allogeneic HCT. Participants were randomly assigned 1:1 to an inpatient palliative care intervention integrated with transplant care or transplant care alone.
Quality of life was assessed using the Functional Assessment of Cancer Therapy-Bone Marrow Transplant (FACT-BMT), while the Hospital Anxiety and Depression Scale (HADS) and Patient Health Questionnaire (PHQ-9) were used to measure mood.
Results showed that week-2, patients in the palliative care intervention group reported improvements in quality of life, depression, anxiety, and symptom burden.
At 3 months post-HCT, patients who received palliative care had significantly improved quality of life, depression, and posttraumatic stress symptoms compared with those who did not. There was no significant difference in anxiety scores between the 2 groups.
Reference
1. El-Jawahri A, LeBlanc TW, VanDusen H, et al. Randomized trial of inpatient palliative care in patients hospitalized for hematopoietic stem cell transplantation (HCT). Poster presented at: 2016 Palliative Care in Oncology Symposium; September 9-10, 2016; San Francisco, CA.