October 29, 2014
Flavonoid consumption may decrease risk of ovarian cancer
the ONA take:
According to a new study published in the American Journal of Clinical Nutrition, researchers from the University of East Anglia in Norwich, England, have found that consuming foods containing flavonols and flavanones are associated with a reduced risk for developing epithelial ovarian cancer.
Previous studies have suggested that a fruit and vegetable-rich diet may be associated with a decreased risk of ovarian cancer, but other studies have demonstrated inconsistent results. The researchers of this study hypothesized that flavonoids might be the compound in plants that may reduce the risk of ovarian cancer because flavonoids alter signaling pathways and control cancer-inflammation pathways. Flavonoids are found in apples, citrus fruit, juices, grapes, red wine, and tea.
For the study, researchers analyzed the dietary habits of 171,940 women from the Nurses' Health Study and Nurses' Health Study II over 30 years. The main sources of flavonoids were found to be juices, citrus fruits, black tea, onions, and apples. During the follow-up period, 723 cases of ovarian cancer occurred. Analyses showed that two cups of black tea daily was associated with a 31% decreased risk for developing ovarian cancer. The researchers recommend future prospective trials to confirm the results of this study.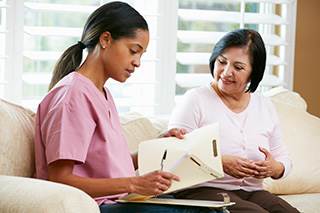 Consuming foods containing flavonols associated with reduced risk of developing epithelial ovarian cancer.
The researchers, from the University of East Anglia (UEA) in the UK, publish their results in the American Journal of Clinical Nutrition. According to the team, ovarian cancer affects over 6,500 women in the UK and 20,000 women in the US each year. Epithelial ovarian cancer - the most common form of the disease - is where the cancer begins in the surface layer covering the ovary.
This type of cancer "remains a highly lethal malignancy," note the researchers, adding that few modifiable risk factors have been established.
Sign Up for Free e-newsletters
Regimen and Drug Listings
GET FULL LISTINGS OF TREATMENT Regimens and Drug INFORMATION