May 01, 2016
Precision Medicine Resource Center Improves Patient Education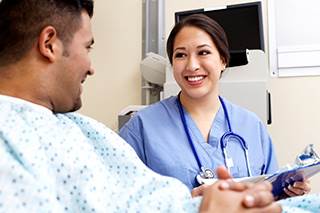 Precision Medicine Resource Center Improves Patient Education

SAN ANTONIO, Tex.–A nurse-managed precision cancer treatment education resource center may improve information dissemination about genomic health and targeted therapy, according to a presentation at the ONS 41st Annual Congress.1

"Genetics and genomics are rapidly changing health care by making it more personalized than ever before," said Cheryl Lynn, BSN, RN, HNB-BC, director of the Center for Advanced Individual Medicine at Cancer Treatment Centers of America (CTCA) in Philadelphia, Pennsylvania. "Our goal is to incorporate precision medicine testing, and subsequent targeted therapy treatment, to both deliver the most effective treatment while minimizing the use of treatment of lesser benefit."

Therefore, staff at CTCA created the Center for Advanced Individual Medicine (CAIM) directed and managed by nurses to primarily focus on patient education and outreach.

The nurses at CAIM contact all patients who have orders for molecular testing, and large panel genomic tests trigger an automatic consult to the center. Since 2014, more than 300 patients have used the educational materials on genomic testing and precision cancer treatment.

The CAIM also collaborates with the oncology teams to provide the information to form the optimal treatment plan based on the testing results. Furthermore, the staff at CAIM coordinates acquisition of recommended therapies and access to clinical trial options when no FDA-approved drugs are available.

"In this rapidly emerging field of practice the need for education will continually be present," Lynn concluded. "Having a dedicated center to meet this need is a necessary and welcomed addition to the health care team."

REFERENCE

1. Lynn C, Selm-Orr D. Implementation of a precision cancer treatment education resource center. Oral presentation at: 2016 Oncology Nursing Society Annual Congress; April 28-May 1, 2016; San Antonio, TX.