February 08, 2018
Sitting With Silence in End-of-Life Cancer Care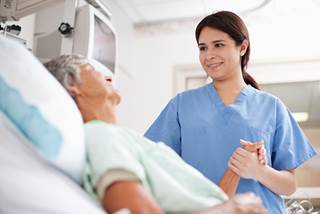 Sometimes compassionate silence can be more effective than action when caring for the terminally ill.
Although minor attention has been given to compassionate silences, researchers recently have taken note and underscored its significance in end-of-life care. Rooted in contemplative practices, compassionate silences encompass a way of being in the world and with the dying that cannot be contrived nor forced by clinicians. "Compassion in contemplative traditions is transmitted through a quality of mind … and is not a tool to be used with a specific set of indications and meanings," Back explains.3 In another study conducted with hospice nurses and pertinent to the practice of consoling presence, Tornoe and colleagues found that embracing the silence demanded a mental shift from a focus on doing something for the patient to being with the patient.2 Compassionate silences, therefore, should never be understood as a means or device in which to create therapeutic relationships. The clinician's ability to empathize and "join with" the suffering of the dying fosters rapport. Being present in the moment elicits openness in allowing our humanity to speak. Compassion for the other emerges naturally and freely from within. The ability to abide compassionately, amidst silence in end-of-life care and simply be provides depth and soul to the patient-clinician encounter. Clinicians who developed the ability to maintain stable attention and emotional balance, and are naturally comfortable expressing empathy and compassion can spontaneously achieve compassionate silences.3
Conclusion
Mindfulness meditation, contemplative practices, and centering prayer are proven to help clinicians cultivate empathy and develop "consoling presence." Although further research is needed, studies have clearly demonstrated the positive influence of these techniques in promoting a way of being and quality of mind that is crucial to end-of-life care. Whether meditative practices enhance empathic behavior is not known; however, evidence suggests that meditation has a positive effect on factors known to influence empathic mental processes.4
---
Glenn Meuche
is the social work internship program coordinator at Cancer
Care.
---
References
1. Rushton CH, Sellers DE, Heller KS, Spring B, Dossey BM, Halifax J. Impact of a contemplative end-of-life training program: being with dying. Palliat Support Care. 2009;7(4):405-414.
2. Tornoe KA, Danbolt LJ, Kvigne K, Sorlie V. The power of consoling presence – hospice nurses' lived experience with spiritual and existential care for the dying. BMC Nurs. 2014;13:25.
3. Back AL, Bauer-Wu SM, Rushton CH, Halifax J. Compassionate silence in the patient-clinician encounter: a contemplative approach. J Palliat Med. 2009;12(12):1113-1117.
4. Mascaro JS, Rilling JK, Tenzin Negi L, Raison CL. Compassion meditation enhances empathic accuracy and related neural activity. Soc Cogn Affect Neurosci. 2013;8(1):48-55.