September 09, 2016
Study Identifies Factors Associated With Poor Care Coordination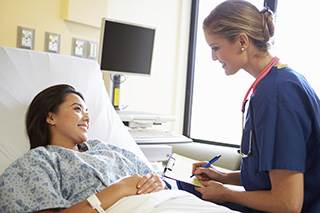 Study Identifies Factors Associated With Poor Care Coordination
Patients who have little to no understanding of the health system, have 3 or more comorbid conditions, do not receive a written plan pretreatment, or do not have contact with a cancer care coordinator or specialist cancer nurse as part of their care have significantly poorer care coordination, a study published in the journal Cancer has shown.1
Because improving care coordination is a main priority for health services, researchers sought to identify patient-related and health service–related factors associated with poorly coordinated care and to determine patient preferences to assist care coordination.
For the study, investigators surveyed 560 patients with incident colorectal cancer who were included in an Australian state-wide cancer registry. Participants were asked to complete a self-report questionnaire 6 to 8 months after their cancer diagnosis.
Among respondents, those who had 3 or more comorbid conditions (P =.006), little or no understanding of the health system (P <.001), and no primary care physician (P =.049) experienced poorer care coordination.
The researchers also found that patients who did not receive a written pretreatment plan (P <.001) or did not see a cancer care coordinator (P =.001) had poorer care coordination.
In terms of care coordination resources, patients most commonly preferred to receive bowel cancer information packs (92%), written care plans (88%), and improved access to their own medical records (electronic, 86%; paper, 84%).
"Our findings provide a focus for targeted strategies and resources to be directed toward the people most at risk for experiencing poorly coordinated care," the authors conclude.
Reference
1. Durcinoska I, Young JM, Solomon MJ. Patterns and predictors of colorectal cancer care coordination: A population-based survey of Australian patients. Cancer. 2016 Sep 7. doi: 10.1002/cncr.30326. [Epub ahead of print]