January 31, 2019
American Cancer Society Report Identifies Priorities for Survivorship Care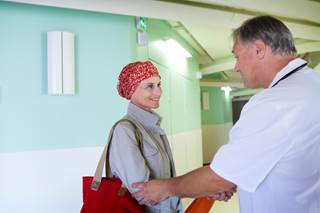 The ACS estimates that by 2026 the number of cancer survivors will grow to 20.3 million.
Anticipating Survivorship
One recent step in addressing concerns of young survivors of cancer was enactment of The Childhood Cancer Survivorship, Treatment, Access, and Research (STAR) Act in June 2018 to aid in research in younger patients with cancers having the least effective therapies. The STAR Act also provides for cancer surveillance and strategies for transitioning patients to care throughout their lives.2
In 2006 the National Academy of Medicine (NAM; known then as the Institute of Medicine) highlighted gaps in awareness regarding the experiences of survivors following cancer treatment.3Following this, the National Academies of Sciences, Engineering, and Medicine identified 9 goals for cancer survivorship care, involving various aspects of caregiving, education, and outcomes.4The ACS report presented 3 priority areas for efforts to address these goals.1
The priority areas identified by the ACS involve streamlining healthcare delivery to patients and providing support for caregivers. The ACS report noted the contribution of precision medicine to enhancing tailored healthcare to patients, though the report also acknowledged the need for a greater understanding of a patient's overall biology and psychosocial condition. Support for caregivers would entail understanding caregivers' needs and appropriately deploying community resources to them.
The first priority identified in the ACS report is implementation of routine assessments of both survivors' and caregivers' needs and the functional status of survivors. "The debilitating symptoms and functional limitations survivors experience are only discoverable through effective communication with the survivor and the survivor's family and informal caregiver," the authors explained. They continued, "A process is needed to stimulate productive discussion between clinicians, survivors, and caregivers about symptoms and other matters of concern beginning at diagnosis and continuing throughout and beyond treatment." The authors advised the use of patient-reported outcome (PRO) metrics to form the basis of these assessments.
The second priority identified in the report is the use of mechanisms, such as referrals or information, to adjust the emphasis of care from point of care to point of need. PROs could aid in the discovery of needs and their levels of severity. Resources provided based on needs could range from self-management tools, to exercise programs, or even clinical interventions.
The third priority identified in the report involves implementation, throughout the United States, of new care strategies with evidence-based efficacy and other benefits. The United States has a less centralized system of care delivery than may be found in a single-payer system, so additional effort needs to be directed toward education and communication. Additional strategies for modernized healthcare delivery include use of electronic health records, care through telemedicine, and the use of patient navigators to help coordinate care. These strategies may also help address socioeconomic disparities in care delivery.
In conclusion,the authors said, "Bringing the voices of cancer survivors and their caregivers into a national dialogue about these root causes of disease and disparities can be a powerful way to mobilize national action and create effective solutions."
References
1. Alfano CM, Leach CR, Smith TG, et al. Equitably improving outcomes for cancer survivors and supporting caregivers: a blueprint for care delivery, research, education, and policy. CA Cancer J Clin. 2019;69(1):35-49.
2. 115th Congress (2017-2018). S.292 - Childhood Cancer Survivorship, Treatment, Access, and Research Act of 2018. https://www.congress.gov/bill/115th-congress/senate-bill/292. Accessed January 30, 2019.
3. Institute of Medicine and National Research Council; Hewitt M, Greenfield S, Stovall E, eds. From Cancer Patient to Cancer Survivor: Lost in Transition. Washington DC: The National Academies Press; 2006.
4. National Academies of Sciences, Engineering, and Medicine. Long-Term Survivorship Care After Cancer Treatment: Proceedings of a Workshop. Washington, DC: The National Academies Press; 2018.