June 17, 2017
Eating and Exercising Towards Better Health in Cancer Survivors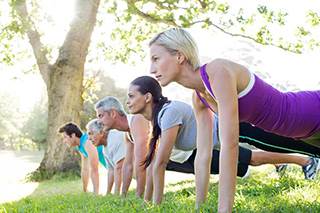 Because cancer survivors are at increased risk of second cancers, cardiovascular disease, and other ailments, lifestyle improvements are important.
Currently, there are more than 15 million cancer survivors in the United States, and this number is expected to increase rapidly as trends toward aging, earlier diagnosis, and improvements in treatment converge. Indeed, the presence of more cancer survivors is cause for celebration. However, because cancer survivors are at much higher risk for second cancers, cardiovascular disease, diabetes, osteoporosis, and functional decline, the celebration may be somewhat short-lived. These conditions threaten quality of life, and increase the burden borne by survivors and their families. Lifestyle changes that promote weight management, increased physical activity, and a whole foods, plant-based diet have the potential to improve survivors' health and well-being, and may potentially lead to increased overall survival. By virtue of being on the front line of care and establishing patient trust, oncology nurse navigators, care coordinators, oncology nurses, and advanced practice nurses play a key role in increasing patient awareness of the importance of adhering to a healthful diet and exercise, and motivating patients to pursue healthy changes in behavior. Screening criteria for quickly identifying survivors at risk for malnutrition are reviewed, as well as sources for referral. Because obesity is an increasing problem in survivor populations, strategies for approaching the need for weight management also are reviewed. A high level of evidence has accumulated for undertaking and adhering to dietary and physical activity recommendations for improving survivors' long term health. Nurses are in a position to positively orient patients with cancer toward longer and healthier lives and can provide vital links to sound information, resources, and appropriate allied health personnel, (ie, registered dietitians, certified exercise physiologists, physiatrists, and physical therapists).
Read more of Oncology Nurse Advisor's coverage of the 2017 ONA Navigation Summit by visiting the conference page.