June 17, 2016
CD38 Levels Associated With Daratumumab Response in Multiple Myeloma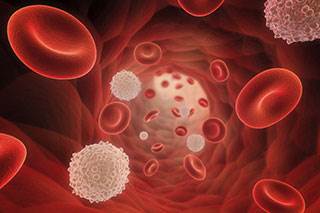 CD38 Levels Associated With Daratumumab Response in Multiple Myeloma
Response to the human CD38-directed monoclonal antibody daratumumab is significantly associated with CD38 expression on the tumor cells in patients with multiple myeloma, a study published in Blood has shown.1
Daratumumab is approved by the U.S. Food and Drug Administration for the treatment of patients with multiple myeloma who have received at least 3 prior lines of therapy including a proteasome inhibitor and an immunomodulatory agent or who are double-refractory to a proteasome inhibitor and an immunomodulatory agent. Single-agent daratumumab is highly active in heavily pretreated patients and is well tolerated, but not all patients respond and many patients who do eventually develop disease progression.
Therefore, researchers sought to examine whether pretreatment expression levels of CD38 and complement-inhibitory proteins are associated with response and whether changes in expression of these proteins impact development of resistance in a cohort of 102 patients treated with single-agent daratumumab 16 mg/kg.
Investigators found that pretreatment CD38 expression levels on myeloma cells were significantly higher in patients who achieved at least a partial response as compared with those who achieved less than a partial response; however, there was no correlation between cell surface expression of complement-inhibitory proteins (CD46, CD55, and CD59) and clinical response.
Results also showed that CD38 expression was reduced following the first infusion of daratumumab. While CD38 expression levels increased again following immunotherapy discontinuation, CD55 and CD59 levels were significantly increased only at the time of disease progression.
Together, this data demonstrates an important role for CD38 and complement-inhibitory protein expression levels in daratumumab sensitivity, and suggests that therapeutic combinations that alter CD38 and complement-inhibitory protein expression levels should be investigated in the treatment of multiple myeloma," the authors concluded.
Reference
1. Nijhof IS, Casneuf T, van Velzen J, van Kessel B, Axel AE, Syed K, et al. CD38 levels are associated with response and complement inhibitors contribute to resistance in myeloma patients treated with daratumumab [published online ahead of print June 15, 2016]. Blood. doi: 10.1182/blood-2016-03-703439.