August 11, 2016
Adding Daratumumab to Lenalidomide/Dexamethasone Improves Survival in Multiple Myeloma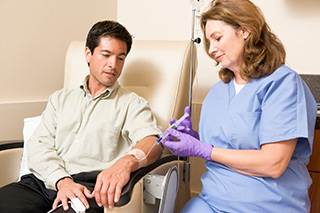 Adding Daratumumab to Lenalidomide/Dexamethasone Improves Survival in Multiple Myeloma
Treatment with daratumumab, lenalidomide, and dexamethasone (DRd) may be superior to lenalidomide and dexamethasone (Rd) alone in patients with relapsed or refractory multiple myeloma, according to a study presented at the 21st Congress of the European Hematology Association .1
In a randomized, open-label, multicenter phase 3 study, researchers looked at 569 patients who received at least 1 prior line of therapy for myeloma and were randomized to either DRd or Rd alone to compare efficacy and safety. Primary end point was progression-free survival, with secondary end points being time to progression, overall response rate, rate of very good partial response or better, minimal residual disease.
Addition of daratumumab was found to have significantly improved median progression-free survival after a median follow-up of 13.5 months compared to Rd alone.
They also found that addition of daratumumab to Rd significantly delayed time to progression compared to Rd alone. The group treated with daratumumab was also found to have increased overall response rate and rate of very good partial response or better compared to the Rd alone group.
Similar rates of discontinuation were observed between the two groups, with common adverse events including neutropenia, diarrhea, fatigue, and upper respiratory tract infection.
Reference
1. Dimopoulos MA, Oriol A, Nahi H, et al. An open-label, randomized phase 3 study of daratumumab, lenalidomide, and dexmethasone (DRD) versus lenalidomide and dexamethasone (RD) in relapsed or refractory multiple myeloma (RRMM): Pollux. Presentation at: 21st Congress of the European Hematology Association; June 9-12, 2016; Copenhagen, Denmark. AbstractLB 2238.