November 08, 2016
PD-1 Inhibitors Ideal for First-Line Therapy in Treatment-Naïve Advanced Melanoma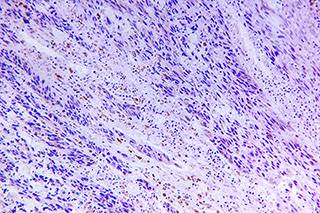 PD-1 Inhibitors Ideal for First-Line Therapy in Treatment-Naïve Advanced Melanoma
Combined BRAF and MEK (BRAF/MEK) targeted therapy and programmed cell death protein 1 (PD-1) inhibition improved overall survival in treatment-naïve patients with advanced melanoma compared with other treatments, but the safety profile of PD-1 inhibitors supports using these agents as first-line therapy in these patients, according to a study published in JAMA Oncology.1
Early stage melanoma is cured with surgery in most patients; however, the disease is often in its late stages at diagnosis. These patients are not candidates for surgery, so drug therapy is the main treatment.
Approximately 40% to 60% of melanomas have a mutation in the BRAF protein, with both targeted therapies and immunotherapies available as treatment options; however, which is the optimal first-line treatment is unclear. Therefore, researchers sought to estimate the efficacy and safety of systemic therapies in treatment-naïve patients with advanced BRAF-mutated melanoma.
For the study, researchers conducted a literature search for trials published between 2011 and 2015 in which at least 1 intervention was a targeted (BRAF or MEK) treatment or an immune checkpoint (CTLA-4 or PD-1) inhibitor.
Their search identified 16 eligible articles reporting 15 randomized controlled trials involving 6662 patients assigned to 1 of 10 treatment strategies.
Overall survival was equally improved with both BRAF/MEK targeted therapy and PD-1 immunotherapy compared with all other treatments except CTLA-4/granulocyte macrophage colony-stimulating factor, but no significant difference was seen between BRAF/MEK and PD-1 (HR, 1.02; 95% credible interval [CrI], 0.72-1.45).
Progression-free survival was significantly more improved with BRAF/MEK targeted therapy compared with all other treatments.
Higher objective response rate was associated with BRAF/MEK (OR, 2.00; 95% CrI, 1.64-2.45) vs BRAF alone. Both treatments were better in achieving objective response rates compared with other treatments.
Risk of serious adverse events was associated with chemotherapy and PD-1 inhibition, with no significant difference in risk between the 2 treatment options.
On the basis of these results, although BRAF/MEK and PD-1 inhibition significantly improved overall survival, the safety profile of PD-1 inhibitors advocates use of these agents as first-line therapy in cases in which a rapid response is not a necessity.
Reference
1. Devji T, Levine O, Neupane B. Systemic therapy for previously untreated advanced BRAF-mutated melanoma: a systematic review and network meta-analysis of randomized clinical trials. JAMA Oncol. 2016 Oct 27. doi: 10.1001/jamaoncol.2016.4877. [Epub ahead of print]