December 08, 2015
Negative PET Scan Post-ABVD: No Need for RT in Advanced Stage Classical Hodgkin Lymphoma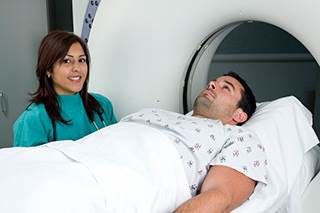 Negative PET Scan Post-ABVD: No Need for RT in Advanced Stage Classical Hodgkin Lymphoma
ORLANDO, FL—Patients with advanced stage classical Hodgkin lymphoma with a residual mass but a negative PET scan following ABVD chemotherapy have excellent outcome without additional consolidative radiotherapy, a study presented at the 57th American Society of Hematology (ASH) Annual Meeting has found.1
"Radiotherapy may be useful in select responding patients with PET-positive residual uptake," said Kerry J. Savage, MD, MS, of the British Columbia Cancer Agency, Centre for Lymphoid Cancer and Department of Medical Oncology in Canada.
The results showed that with a PET-guided approach, the need for radiotherapy is significantly reduced, "thus potentially avoiding long-term effects," such as secondary malignancies or cardiac events, Dr. Savage added.
The investigators screened the British Columbia Cancer Agency Centre for Lymphoid Cancer Database, identifying case records for all patients 16 years of age and older with advanced stage classical Hodgkin lymphoma who were treated with curative intent using ABVD chemotherapy—doxorubicin, bleomycin, vinblastine, and dacarbazine—and had undergone a restaging PET scan at the end of treatment.
Since July 2005, the recommended treatment has been 6 cycles of ABVD, followed by a PET scan if residual abnormalities of greater than 2 cm were observed on CT imaging. In September 2011, staging PET scans were introduced, she said.
A total of 316 patients met study criteria; median age was 33 years (range, 16-82 years); 48% were female.
At a median follow-up of 4.6 years, the 5-year freedom from treatment failure for the entire cohort was 83%; 5-year overall survival was 94.5%.
Overall, patients with a PET-negative scan following treatment had superior 5-year freedom from treatment failure compared to those with a PET-positive scan, 89% vs 53%; P < .0001, Dr. Savage reported.
In the PET-negative group, no difference was observed in outcome when the bulky (112 patients) and non-bulky (152 patients) subgroups were compared; the 5-year freedom from treatment failure rate was 89% vs 88%; P = .458.
Among all PET-positive patients who received radiotherapy, 16 subsequently relapsed, 2 within the radiotherapy field only; 7 outside of the field only; and 7 relapsed both within and outside the field.
Dr. Savage said these data support an ongoing CALGB Alliance study evaluating ABVD alone in PET2 negative stage 1/2 bulky mediastinal classical Hodgkin lymphoma.
Reference
1. Savage KJ, Connors JM, Villa DR, et al. Advanced stage classical Hodgkin lymphoma patients with a negative PET-scan following treatment with ABVD have excellent outcomes without the need for consolidative radiotherapy regardless of disease bulk at presentation. Oral presentation at: 57th American Society of Hematology (ASH) Annual Meeting; December 7, 2016, Orlando, FL.