September 07, 2016
WBRT Adds Little Benefit for NSCLC With Brain Metastases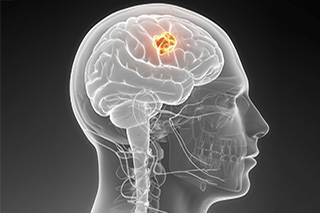 WBRT Adds Little Benefit for NSCLC With Brain Metastases
Adding whole brain radiotherapy (WBRT) to dexamethasone and best supportive care provides little additional benefit for patients with non-small cell lung cancer (NSCLC) and brain metastases who are ineligible to undergo resection or stereotactic radiotherapy, a study published in The Lancet has shown.1
WBRT and dexamethasone are frequently used to treat brain metastases in patients with NSCLC despite the lack of randomized clinical trials demonstrating an improvement in quality of life or overall survival with WBRT.
Therefore, researchers sought to determine whether WBRT could be omitted from this regimen without a significant impact on survival or quality of life.
For the phase 3 QUARTZ study, investigators enrolled 538 patients and randomly assigned them 1:1 to optimal supportive care including dexamethasone with or without WBRT administered at a dose of 20 Gy in 5 daily fractions.
Results showed that patients who received WBRT experienced significantly more episodes of drowsiness, dry or itchy scalp, hair loss, and nausea compared with those who did not receive WBRT; however, there was no difference in the rate of serious adverse events between the 2 treatment arms.
There was also no significant difference in overall survival (hazard ratio, 1.06; 95% CI, 0.90-1.26), overall quality of life, or dexamethasone use between the 2 groups.
"The combined evidence suggests that WBRT offers no substantial benefit to most patients with brain metastases from NSCLC in terms of improved survival, overall quality of life, or reduction in steroid use," the authors wrote. "The implication for clinical care is that optimal supportive care is as effective as optimal supportive care plus WBRT, and the implication for future research is that potential new treatments could be assessed in addition to optimal supportive care, rather than in addition to, or in place of, WBRT. "
Reference
1. Mulvenna P, Nankivell M, Barton R, et al. Dexamethasone and supportive care with or without whole brain radiotherapy in treating patients with non-small cell lung cancer with brain metastases unsuitable for resection or stereotactic radiotherapy (QUARTZ): results from a phase 3, non-inferiority, randomised trial. Lancet Oncol. 2016 Sep 4. doi: 10.1016/S0140-6736(16)30825-X. [Epub ahead of print]