February 16, 2016
Patients With Cancer Not More Likely to Quit Smoking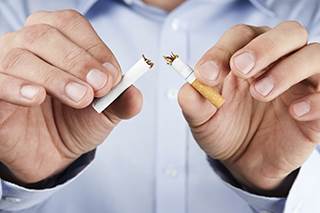 Patients With Cancer Not More Likely to Quit Smoking
Patients with cancer, including those with a tobacco-related cancer, do not seem to be more likely to quit smoking than the general population, a study published in the journal Cancer has shown.1
Because there are limited data on smoking habits and smoking cessation counseling in patients with cancer, researchers at New York-Presbyterian University Hospital in New York City, New York, and Yale University School of Medicine in New Haven, Connecticut, sought to examine smoking habits among Americans with cancer.
For the study, researchers analyzed data from 27 157 participants in the 2010 National Health Interview Survey, representing 216 052 891 persons. Of those, 7 058 135 had smoked and 13 188 875 had cancer.
Results showed that approximately 51.7% of patients with cancer and were active smokers at diagnosis reported being counseled on smoking cessation by a health care professional within the last 12 months.
However, researchers found that cancer survivors were no more likely to quit smoking than people in the general population, nor were patients with a tobacco-related cancer more likely to quit smoking than those with other types of cancer.
The study also demonstrated that the type of smoking cessation method used had no impact on the rates of quitting.
"Smoking cessation in patients with cancer is an important area for intervention and investigation," the authors conclude.
REFERENCE
1. Ramaswamy AT, Toll BA, Chagpar AB, Judson BL. Smoking, cessation, and cessation counseling in patients with cancer: A population-based analysis [published online ahead of print February 16, 2016]. Cancer. doi:10.1002/cncr.29851.