October 13, 2017
Osimertinib in the Treatment of Non-small Cell Lung Cancer: Design, Development and Place in Therapy
the ONA take:
The standard of care for patients with non-small cell lung cancer (NSCLC) is transitioning away from traditional platinum-based chemotherapy towards genotype-targeted therapy with epidermal growth factor receptor (EGFR) tyrosine kinase inhibitors (TKI) such as erlotinib, gefitinib, and afatinib.
Although EGFR TKI therapy has shown superior outcomes for objective response rate, progression-free survival, quality of life, and safety profiles, the majority of patients develop resistance most commonly due to the T790M mutation found on exon 20 of the EGFR gene.
Osimertinib, a third-generation EGFR TKI that works by irreversibly binding to both EGFR TKI-sensitizing and T790M resistance-mutant forms while sparing wild-type EGFR, has demonstrated superiority compared with standard platinum-based doublet therapy in previous trials. It was approved in 2015 by the US Food and Drug Administration (FDA) for the treatment of patients with NSCLC who are EGFR T790M mutant positive and have progressed after first-line EGFR TKI therapy.
For this review, the authors present findings and results from previous trials, methods for identifying patients for whom osimertinib treatment would be appropriate based on mutation status, mechanisms of resistance, as well as current clinical studies and the optimal sequence of osimertinib in treatment of NSCLC.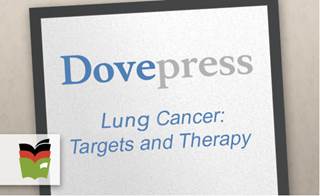 Lung cancer: Targets and Therapy
Abstract: The discovery of epidermal growth factor receptor (EGFR) mutations and subsequent demonstration of the efficacy of genotype-directed therapies with EGFR tyrosine kinase inhibitors (TKIs) marked the advent of the era of precision medicine for non-small-cell lung cancer (NSCLC). First- and second-generation EGFR TKIs, including erlotinib, gefitinib and afatinib, have consistently shown superior efficacy and better toxicity compared with first-line platinum-based chemotherapy and currently represent the standard of care for EGFR-mutated advanced NSCLC patients. However, tumors invariably develop acquired resistance to EGFR TKIs, thereby limiting the long-term efficacy of these agents. The T790M mutation in exon 20 of the EGFR gene has been identified as the most common mechanism of acquired resistance. Osimertinib is a third-generation TKI designed to target both EGFR TKI-sensitizing mutations and T790M, while sparing wild-type EGFR. Based on its pronounced clinical activity and good safety profile demonstrated in early Phase I and II trials, osimertinib received first approval in 2015 by the US FDA and in early 2016 by European Medicines Agency for the treatment of EGFR T790M mutation-positive NSCLC patients in progression after EGFR TKI therapy. Recent results from the Phase III AURA3 trial demonstrated the superiority of osimertinib over standard platinum-based doublet chemotherapy for treatment of patients with advanced EGFR T790M mutation-positive NSCLC with disease progression following first-line EGFR TKI therapy, thus definitively establishing this third-generation TKI as the standard of care in this setting. Herein, we review preclinical findings and clinical data from Phase I–III trials of osimertinib, including its efficacy in patients with central nervous system metastases. We further discuss currently available methods used to analyze T790M mutation status and the main mechanisms of resistance to osimertinib. Finally, we provide an outlook on ongoing trials with osimertinib and novel therapeutic combinations that might continue to improve the clinical outcome of EGFR-mutated NSCLC patients.

---
Keywords:
osimertinib, T790M mutation, epidermal growth factor receptor, tyrosine kinase inhibitors
---
INTRODUCTION
Lung cancer is the leading cause of cancer mortality, representing more than one-quarter of all cancer deaths in 2016.1 About 85% of lung cancers are non-small-cell lung cancer (NSCLC), comprising adenocarcinoma, squamous cell carcinoma, and large-cell lung cancer, which are generally diagnosed as locally advanced or metastatic disease. For patients with advanced NSCLC, platinum-based chemotherapy has historically been the cornerstone of systemic treatment, although it offers modest improvement in overall survival (OS).2 The discovery of oncogenic drivers, including epidermal growth factor receptor (EGFR) mutations and anaplastic lymphoma kinase (ALK) rearrangements, mainly found in adenocarcinoma, and the development of specific molecularly targeted agents, has radically changed the therapeutic landscape for advanced NSCLC patients.3,4 The remarkable efficacy of treatment with EGFR tyrosine kinase inhibitors (TKIs), including gefitinib, erlotinib and afatinib, has been largely established in several prospective trials, resulting in higher objective response rate (ORR), longer progression-free survival (PFS) and better tolerability and quality of life (QoL), compared with standard platinum-based chemotherapy in EGFR-mutated NSCLC patients.5–12 Similarly, the first-in-class ALK TKI, crizotinib, showed superior efficacy than chemotherapy in NSCLC patients with ALKrearrangements.13 These targeted agents currently represent the standard, first-line treatment of such molecularly defined patients with advanced NSCLC.14 The combination of erlotinib and bevacizumab represents another first-line treatment option for patients with NSCLC harboring activating EGFRmutations.14–16 After progression to crizotinib, ALK-rearranged NSCLC patients can benefit from treatment with next-generation ALK inhibitors, including ceritinib, alectinib and brigatinib, which have been approved in this setting.17–19 Recently, for the relatively small subgroup of NSCLC patients harboring the BRAF V600E mutation, dabrafenib and trametinib combination has emerged as a novel, effective therapeutic option.20 In the past few years, immunotherapy has further expanded the therapeutic array for NSCLC patients and different immune checkpoint inhibitors targeting the PD-1/PD-L1 pathway, including nivolumab, pembrolizumab and atezolizumab, are currently approved in the second-line setting.21,22 The anti-PD-1 monoclonal antibody, pembrolizumab, has recently received approval also in the first-line setting, for those patients whose tumors have high PD-L1 expression (defined as PD-L1 expression on at least 50% of tumor cells), because of demonstration of longer PFS and OS, with fewer adverse events, than platinum-based chemotherapy.23
Novel promising targeted agents, including those directed against mesenchymal-epithelial transition (MET) and rearranged during transfection (RET), and different immunotherapies are under investigation and will probably further improve lung cancer management over the next few years.24