August 26, 2014
Only 20% of lung cancer cases caught by x-rays
the ONA take:
According to a Norwegian study, ultralow-dose computerized tomography (CT) scans catch 89% of lung cancer cases, while x-ray examinations only catch 18% of cases. In the study, researchers asked radiologists at Oslo University Hospital in Oslo, Norway, to examine x-ray and CT scan images and to identify possible diseases in the chest.
In Norway, over 1 million people undergo x-ray imaging and most patients with lung cancer are first diagnosed by using x-ray examinations. Despite the increased accuracy with CT imaging, clinicians have been hesitant to use this method as first-line screening because of the increased radiation. Until modern ultralow-dose CT imaging, the radiation dose has been 100 times greater than x-ray imaging or equal to 5 years of natural background radiation.
If an examination with x-ray is negative, substantial time may pass before a patient is recommended for CT imaging. That time may be enough for the lung cancer to grow, spread, and become deadly. According to the Centers for Disease Control and Prevention, lung cancer is deadlier than any other type of cancer for both males and females in the United States. Unfortunately, CT scans are substantially more expensive than x-ray examinations.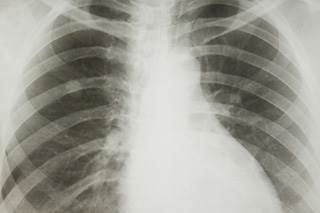 With modern ultralow-dose CT, the radiologists hit the bull's eye on lung cancer 90% of the time.
Each year, nearly 3000 Norwegians develop
lung cancer
. Current x-ray- examinations capture only 20 percent of cases. With modern ultralow-dose CT, the radiologists hit the bull's eye 90 per cent of the time. In Norway, no other forms of cancer take as many lives as lung cancer.
Each year, 2800 Norwegians develop the dreaded disease. Their prognosis is unpromising: six out of seven die within five years. What is especially unfortunate about lung cancer is that the tumour has ample space to grow.
It can thus grow for a long time before being detected. Most patients have their first diagnosis made by x-ray imaging. Each year, Oslo University Hospital takes 30 000 chest x-rays. Nationwide, this number exceeds one million.
Sign Up for Free e-newsletters
Regimen and Drug Listings
GET FULL LISTINGS OF TREATMENT Regimens and Drug INFORMATION