May 04, 2016
Necitumumab With Chemotherapy Beneficial for Patients With EGFR-expressing NSCLC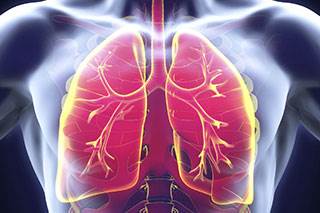 Necitumumab With Chemotherapy Beneficial for Patients With EGFR-expressing NSCLC
The most benefit from adding necitumumab to chemotherapy with gemcitabine and cisplatin occurred for patients whose advanced squamous non-small cell lung cancer (NSCLC) expressed epidermal growth factor receptor (EGFR), according to findings from a subgroup analysis of the randomized phase 3 SQUIRE trial presented at the European Lung Cancer Conference (ELCC) 2016.1
The randomized phase 3 SQUIRE trial demonstrated that adding necitumumab to gemcitabine and cisplatin chemotherapy improved overall survival in patients with stage IV squamous non-small cell lung cancer by 1.6 months compared with chemotherapy alone. This study compared outcomes based on if a patient's tumor did or did not express EGFR.
Of 982 patients in the SQUIRE trial, 95% had EGFR-expressing tumors and 5% had tumors with no EGFR protein. The addition of necitumumab to gemcitabine and cisplatin chemotherapy improved overall survival and progression-free survival by 21% and 16%, respectively, compared with chemotherapy alone in patients whose tumors expressed the EGFR protein. There was no benefit in patients with no EGFR in their tumors.
"Necitumumab is targeted at EGFR so it makes sense that the drug is active in patients with the receptor. Our analysis showed that the drug had no effect when the receptor was absent, presumably because there was no target to bind to," said Luis Paz-Ares, MD, PhD of the University Hospital 12 De Octubre in Madrid, Spain, and lead author of the study. "We cannot make robust conclusions because the subgroup of patients with negative EGFR was very small, but the hypothesis generated here is that those tumors do not respond well to necitumumab."
Paz-Ares explained that these results have led the European Medicines Agency to approve necitumumab only for patients with tumor expressing EGFR. However, the US FDA recognized that SQUIRE was designed for all comers without prior selection and that this subgroup analysis is insufficient evidence to conclude that patients with EGFR-negative tumors are not candidates.
"Our results need to be interpreted with caution. A confirmatory study in patients with EGFR-negative tumors is needed to assess whether they are good candidates for necitumumab or not," said Paz-Ares.
Reference
1. European Society for Medical Oncology. Patients with EGFR expressing NSCLC benefit most from necitumumab added to chemotherapy. EurekAlert! Web site. http://www.eurekalert.org/pub_releases/2016-04/esfm-pwe041316.php. Accessed May 4, 2016.