June 01, 2018
Response to Rapamycin Analogs but not PD-1 Inhibitors in PTEN-mutated Metastatic Non-small Cell Lung Cancer With High Tumor Mutational Burden
the ONA take:
This case study presents the case of a 62-year-old woman with stage IV lung adenocarcinoma who had a 60 pack-year history of smoking, bilateral disease, a right adrenal mass, and osseous metastasis.
The patient received multiple lines of therapy, including carboplatin, paclitaxel plus bevacizumab, pemetrexed, docetaxel, stereotactic radiation, and gemcitabine, but still experienced progression after each course of treatment.
Genomic profiling revealed she harbored the PTEN and STK11 gene mutations, which led investigators to treat her with intravenous temsirolimus, a rapamycin analogue. A 3-month follow-up showed that she had significant clinical improvements in breathing and her overall functional status, and also had significant reductions in a right lung mass and reduction of pleural mass. She experienced disease progression again after 20 months, at which point she was switched to nivolumab, vinorelbine, and then pembrolizumab (upon confirming 80% PD-L1 expression), but progressed after 2 months. She was transferred to hospice and passed away thereafter.
The authors concluded that "the exceptional response observed here suggests that further assessment and investigation is warranted for PTEN status in NSCLC lacking known oncogenic drivers."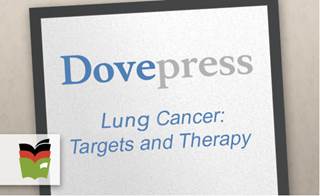 Lung Cancer: Targets and Therapy
Abstract: In non-small-cell lung cancer (NSCLC) refractory to standard therapy and which lacks well-known oncogenic drivers, genomic profiling can still identify genomic alterations that may suggest potential sensitivity to targeted therapy. PTEN mutation in NSCLC may be sensitizing to analogs of rapamycin such as everolimus or temsirolimus, but more investigation is needed. We report the case of a patient with metastatic NSCLC harboring a PTEN mutation as well as high tumor mutational burden and PD-L1 positivity with a durable response to temsirolimus, but refractory to a checkpoint inhibitor. Even in the event of failure of treatment with checkpoint inhibitors in the background of a case with a higher tumor mutational burden and PD-L1 positivity, targeting specific genomic alterations may still result in patient benefit.
---
Keywords:
genomic profiling, temsirolimus, targeted therapy, immunotherapy
---
INTRODUCTION
Lung cancer is one of the most common cancers diagnosed in the US. The 5-year survival upon diagnosis of stage IV lung cancer is 4%.1 Comprehensive genomic profiling is being used more frequently to help identify mutations in an individual patient's non-small-cell lung cancer (NSCLC) to suggest benefit from targeted therapy or immunotherapy. We present the case of a patient with metastatic NSCLC found to harbor PTEN and STK11 alterations using comprehensive genomic profiling who responded to matched targeted therapy in the background of higher tumor mutational burden.
CASE HISTORY
The patient is a 62-year-old woman with a 60 pack-year smoking history who presented with stage IV lung adenocarcinoma in September 2012. She was found to have bilateral disease in her lungs, a right adrenal mass, and osseous metastasis. EGFR and ALK were queried by single gene molecular testing. The patient enrolled in a clinical trial and was treated with carboplatin, paclitaxel, and bevacizumab. She responded to therapy and was then placed on maintenance bevacizumab. She had disease progression in February 2013 and was treated with pemetrexed. Her disease progressed in November 2013, and so she was treated with docetaxel. Her computed tomography scans showed response at 3 months and 6 months; however, by 9 months, she had further disease progression including a new intracranial metastasis. She received stereotactic radiation to her intracranial metastasis in May 2014. She was then started on gemcitabine and found to have disease progression after 3 cycles.
To identify opportunities for possible benefit from targeted therapy, comprehensive genomic profiling (FoundationOne, Foundation Medicine, Inc., Cambridge, MA, USA) was performed on a biopsy of a right upper lobe lesion collected in December 2013, which revealed the following genomic alterations: PTEN D268fs*30, STK11 splice site 465-1G>T, p53 G293R, KEAP1 G480W, and LRP1B G528W, as well as tumor mutational burden of 18.9 mutations/megabase. On the basis of PTEN and STK11 alterations, the decision was made to treat the patient with weekly temsirolimus 25 mg IV weekly in analogy to dosing for advanced renal cell carcinoma. After 3 months of treatment, she showed significant clinical improvement in her breathing and overall functional status. Although her radiologic response was not formally evaluated by RECIST criteria, it was analogous to a robust partial response with significant reduction of a right lung mass and reduction of a pleural mass (Figure 1). She remained on treatment for almost 20 months until March 2016 when her scans showed disease progression with increase in size of right-sided lung mass as well as increase in pleural effusion. Her treatment was then changed to nivolumab, on which the disease progressed after 3 months. Treatment was changed to vinorelbine in July 2016 with partial response, but by January 2017, she had clinical and radiographic progression. Pleural fluid drained in January 2017 showed 80% PD-L1 expression by immunohistochemistry. She was then treated with pembrolizumab in February 2017, but after 2 cycles had further clinical and radiographic progression. The patient transferred to a hospice in March 2017 and passed away a month later.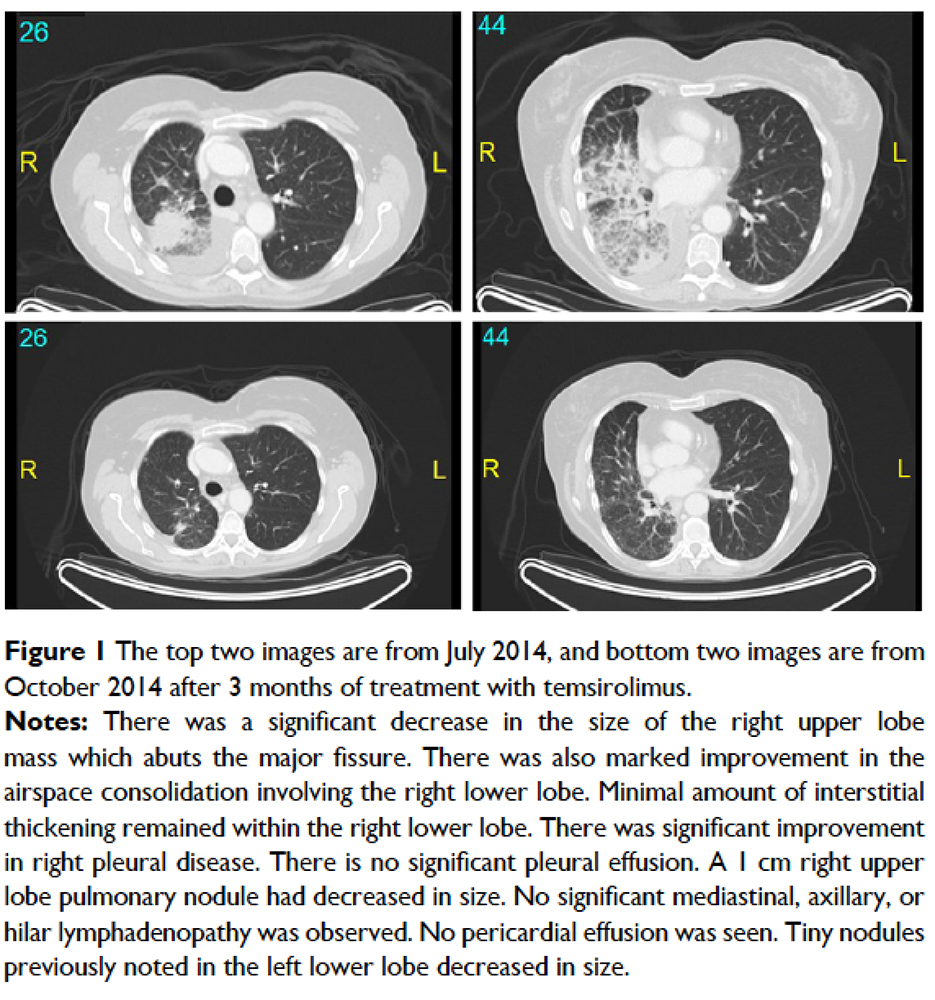 (To view a larger version of Figure 1, click here.)