December 21, 2016
Prenatal Herpes Virus Infection May Increase Childhood Leukemia Risk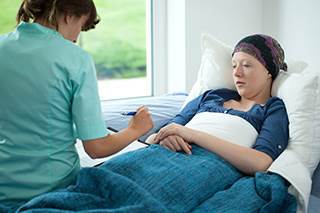 CMV may be associated with childhood leukemia development.
Herpetic cytomegalovirus (CMV) infection before birth increases the odds that a newborn will go on to develop pediatric acute lymphoblastic leukemia (ALL), researchers reported in Blood.1
"[C]ontrol of the virus has the potential to be a prevention target," reported lead study author Stephen Francis, PhD, of the University of California, San Francisco.2 "Our goal in tracking CMV back from the time of diagnosis to the womb was to establish that this infection occurred well before initiation of disease."
The team used examined prediagnostic bone marrow samples from 127 children diagnosed with ALL and 38 children with acute myeloid leukemia (AML), searching for bacteria and all known viruses. CMV DNA was found in the marrow of the children with ALL. CMV was found in their leukemic (ALL) cells and serum.
Next, 268 ALL patients' newborn blood samples were screened specifically for CMV and infection rates were compared to newborn blood samples from 270 healthy control children. The pediatric ALL group had significantly higher rates of in utero CMV infections, as evidenced by newborn blood samples (odds ratio [OR] 3.7, 95% CI: 1.56 - 792; P = .0016). The association was strongest among Hispanic children (OR 5.9; 95% CI: 1.89 - 25.96; P = .006).
References
1. Francis SS. Wallace AD, Wendt GA, et al. In utero cytomegalovirus infection and development of childhood acute lymphoblastic leukemia. Blood. December 15, 2016. [Epub ahead of print.]
2. American Society of Hematology. Press release: Herpes virus linked to most common type of childhood cancer. http://www.hematology.org/Newsroom/Press-Releases/2016/6959.aspx. December 15, 2016.