April 21, 2016
Idelalisib therapy of indolent B-cell malignancies: chronic lymphocytic leukemia and small lymphocytic or follicular lymphomas
the ONA take:
Idelalisib is a kinase inhibitor indicated for the treatment of patients with relapsed chronic lymphocytic leukemia (CLL)/small cell lymphocytic lymphoma (SLL) and patients with relapsed follicular B-cell non-Hodgkin lymphoma.
In patients with CLL, idelalisib monotherapy significantly improved objective response rate, progression-free survival, and overall survival. Adding rituximab with or without bendamustine to idelalisib has also been shown to be effective in patients harboring certain mutations. Among patients with indolent B-cell lymphoma, including follicular lymphoma and SLL, patients refractory to both rituximab and an akylating agent achieved durable objective responses in 57% of patients receiving idelalisib.
In terms of safety, the most common adverse events with idelalisib include pyrexia, fatigue, nausea, chills, diarrhea, cough, AST/ALT elevation, neutropenia, rash, and dyspnea; however, the incidence rates of these adverse events vary across cancer types. The somewhat unique toxicity profile necessitates careful monitoring of patients treated with this kinase inhibitor.
In addition, there are many factors impacting patient adherence to idelalisib treatment, such as the ease of administration, the tolerable side effect profile, and acceptable drug–drug interactions. Together, they make idelalisib an encour­aging agent for patient adherence. However, the average wholesale price of a 1-month supply is approximately $8862 at the recommended full dose, which may negatively impact adherence.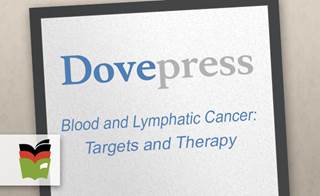 Blood and Lymphatic Cancer: Targets and Therapy
Abstract: Chronic lymphocytic leukemia, small lymphocytic lymphoma, and follicular lymphoma are indolent B-cell lymphoproliferative disorders that mainly affect an older population. Although the majority of patients in need of treatment derive significant benefit from conventional chemotherapeutic agents as well as monoclonal antibodies, less toxic and more effective treatments are needed. Novel agents that inhibit the B-cell receptor signaling pathway have shown promising outcomes in these disorders. Idelalisib is a potent selective oral inhibitor of phosphatidylinositol 3-kinase delta and has shown significant clinical activity in B-cell malignancies. In this review, we summarize the clinical trial data using idelalisib as monotherapy or in combination with rituximab for the treatment of relapsed/refractory disease. The adverse effect profile includes autoimmune disorders such as transaminitis, colitis, and pneumonitis. Given the efficacy and manageable toxicity profile of idelalisib, it is being increasingly incorporated into the management of indolent B-cell malignancies.

---
Keywords:
idelalisib, PI3Kδ inhibitors, chronic lymphocytic leukemia, follicular lymphoma
---
INTRODUCTION
Chronic lymphocytic leukemia (CLL), small lymphocytic lymphoma (SLL), and follicular lymphoma (FL) are common B-cell lymphoproliferative disorders. CLL is the most common leukemia, and FL is the most common indolent B-cell lymphoma.1,2 CLL/SLL and FL affect the older population, with a median age of 65 years at diagnosis for FL and 71 years for CLL/SLL.3–5 The first-line treatment for CLL with greatest efficacy consists of chemoimmunotherapy with fludarabine, cyclophosphamide, and rituximab (FCR). This has shown an overall response rate (ORR) of greater than 95% and complete remission of 72% for patients without the high risk 17p deletion.6,7 However, this treatment is not an option for elderly patients or those with significant comorbidities. Although bendamustine with rituximab (BR) is a less-toxic alternative with equivalent progression-free survival (PFS) for patients 65 years or older, neither FCR nor BR are attractive options in the relapsed setting in this population due to cumulative toxicities.8 This has posed difficulties in managing these patients, and there has been an unmet need for less-toxic treatment options.