October 31, 2016
5-parameter Prognostic Index Useful for Predicting TTFT, OS in CLL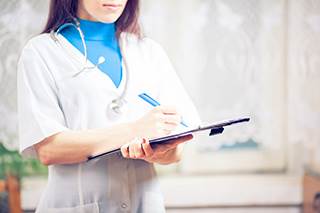 5-parameter Prognostic Index Useful for Predicting TTFT, OS in CLL
Although originally developed to predict survival in patients with chronic lymphocytic leukemia (CLL), the CLL International Prognostic Index (CLL-IPI) is useful for predicting time-to-first-treatment (TTFT) in patients with early stage disease, according to a study published in the American Journal of Hematology.1
The CLL-IPI combines 5 parameters — age, clinical stage, TP53 status, IGHV mutational status, and serum β2-microglobulin level — to predict survival and TTFT in patients with CLL. To validate the ability of the CLL-IPI to predict TTFT in patients with early stage CLL and to investigate the optimal cut-off score, researchers performed an observational study of an independent cohort of Binet stage A patients.
Using the CLL-IPI, investigators classified 337 patients into 3 subsets with scores of 0, 1, and 2 or higher. Results showed that the probability of remaining free from treatment 5 years after diagnosis was 85%, 67%, and 46% in these 3 categories, respectively (P <.0001).
This optimized CLL-IPI was subsequently validated in an independent cohort of 525 patients with Binet stage A disease who received care at the Mayo Clinic.
Investigators also found that the original and optimized CLL-IPI were equivalent to other prognostic models, such as the 2011 MDDACC score and the O-CLL1 scores, which were specifically developed to predict TTFT.
The findings suggest that clinicians can use the optimized CLL-IPI to predict both TTFT and overall survival in patients with Binet stage A CLL, which will ultimately allow for greater targeted management of this subpopulation.
Reference
1. Molica S, Shanafelt TD, Giannarelli D, et al. The chronic lymphocytic leukemia international prognostic index predicts time to first treatment in early CLL: independent validation in a prospective cohort of early stage patients. Am J Hematol. 2016 Aug 8. doi: 10.1002/ajh.24493.