December 07, 2015
Arsenic Trioxide Reduces Relapse in Standard Risk Newly Diagnosed APL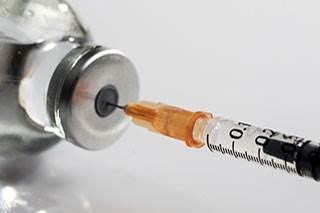 Arsenic Trioxide Reduces Relapse in Standard Risk Newly Diagnosed APL
ORLANDO, FL—Systematic introduction of arsenic trioxide in first-line treatment of standard risk acute promyelocytic leukemia (APL) can further reduce relapse rates, a study by the French Belgian Swiss APL Group presented at the 57th American Society of Hematology (ASH) Annual Meeting has shown.1
They caution, however, that arsenic trioxide should not be administered concomitantly with chemotherapy due to the potential for "significant" myelosuppression.
Following induction with all-trans-retinoic acid (ATRA) and chemotherapy, the randomized trial compared consolidation with classical cytarabine (Ara C), arsenic trioxide, and ATRA in 398 patients newly diagnosed with standard-risk APL, defined as a baseline white blood cell count less than 10 g/L, said Lionel Ades, MD, PhD, of St Louis Hospital, University Paris 7 in France.
The 96% of patients who attained a complete remission following induction therapy were then randomly assigned to receive Ara C, arsenic trioxide, or ATRA.
The Ara C group (118 patients) received a first consolidation course with idarubicin 12 mg/m2/day for 3 days and Ara C 200 mg/m2/day for 7 days; a second consolidation with idarubicin 9 mg/m2/ day for 3 days and Ara C 1 g/m2 over 12 hours for 4 days, and 2 year maintenance with intermittent ATRA for 15 days every 3 months with continuous 6 MP plus MTX.
In the arsenic trioxide (118 patients) and ATRA (117 patients) groups, Ara C was replaced by arsenic trioxide 0.15 mg/kg/day, days 1 to 25, and ATRA 45 mg/m2/day, days 1 to 15, respectively for both consolidation courses.
From randomization, 5-year event-free survival—the primary end point—in the Ara C, arsenic trioxide, and ATRA consolidation groups, respectively, was 90.8% (85; 96), 92.5% (87; 98), and 86.8% (79; 94); P = .52, Dr. Ades reported. The 5-year cumulative incidence of relapse was 3.89% (0.08; 7.69), 0% (0; 0), and 7.41% (1.96; 12.87); P = .03; and 5-year overall survival, 93.6% (89; 98), 92.8% (87; 98), and 91.9% (85; 99); P = .93).
Median duration of hospitalization after the first consolidation course was 30 days in the Ara C group, 33 days in the arsenic trioxide group, and 19 days in the ATRA group (P < .001) and, after the second consolidation course, 27, 32, and 15 days, respectively (P < . 001). Similar significant differences were observed for number of days with antibiotics and red blood cell transfusions after the first and second consolidation courses.
In the Ara C group, 4 patients had relapsed, compared with 0 in the arsenic trioxide group and 7 in the ATRA consolidation group; in addition, 6, 7, and 5 patients, respectively, died while in complete remission. The causes of death were pulmonary embolism, sepsis, AML, and other in the Ara C arm; sepsis, relapse of a previous cancer, AML, and other in the arsenic trioxide arm; and bleeding, relapse of a previous cancer, MDS, and other in the ATRA arm.
Reference
1. Ades L, Thomas X, Guerci-Bresler A, et al. Is arsenic trioxide (ATO) required in the treatment of standard risk newly diagnosed APL? Analysis of a randomized trial (APL 2006) by the French Belgian Swiss APL Group. Oral presentation at: 57th American Society of Hematology (ASH) Annual Meeting; December 7, 201f, Orlando, FL.