Issues in Cancer Survivorship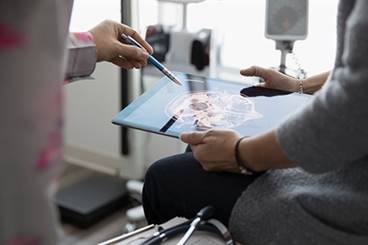 Use of a computerized brain exercise program designed to help people sharpen their cognitive function was found to be effective against chemobrain in breast cancer survivors.

In a 2-pronged study, researchers determined that antiperspirant/deodorant use is a significant part of quality of life for patients with breast cancer, and the practice does not increase risk of skin reactions in the axilla.

A nurse-led study explored the significance of nurse navigators for patients with lymphoma approaching their transition from acute care to survivorship care.

Researchers at St Jude Children's Research Hospital sought to determine what indicators in survivors of CNS tumors can predict the survivor's ability to live independently as an adult.

Wearable activity monitors offer oncology care teams an unbiased glimpse into patients' health behaviors and improved reports on performance status.

A prospective trial with more than 2000 women who underwent mastectomy with immediate breast reconstruction sought to determine patient satisfaction with their breasts and quality of life annually over 4 years after their procedure.

A multinational retrospective study investigated the long term effects of exercise intensity and frequency on all-cause and cause-specific mortality among adult survivors of childhood cancers.

Results of a literature review highlighted 5 strategies for improving the management of urgent care situations in patients with cancer.

A review of the literature on follow-up after positive screening results led researchers to a consensus opinion on timing of diagnostic tests for 4 cancers: breast, cervical, colorectal, and lung.

Recent research shows that although testicular cancer survivors do not totally conform to the criteria for metabolic syndrome, past treatment with platinum-based chemotherapy increases its prevalence among survivors and may lead to a greater risk for heart disease in this patient population.
Sign Up for Free e-newsletters
Regimen and Drug Listings
GET FULL LISTINGS OF TREATMENT Regimens and Drug INFORMATION