May 06, 2014
DDW: Dual method aids removal of right colon polyps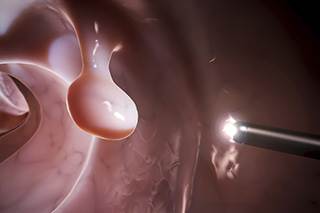 Colorectal cancer rates increasing for U.S. adults under 50
(HealthDay News) -- Laparoscopic-assisted colonoscopy with polypectomy (LACP) may be an effective alternative to laparoscopic hemicolectomy (LHC) for difficult-to-remove polyps in the right colon, according to research presented at the annual Digestive Disease Week, held from May 3 to 6 in Chicago.
Jonathan Buscaglia, M.D., of the Stony Brook University School of Medicine in New York City, and colleagues randomly assigned patients to LACP (14 patients) or LHC (14 patients) for the removal of unresectable polyps in the right colon.
The researchers found that removal of polyps in the right colon by LACP was technically successful in 92.9 percent of patients, with one conversion to LHC. Removal of polyps in the right colon by LHC was technically successful in 71.4 percent of patients with four conversions to laparotomy. Compared with patients undergoing LACP, those undergoing LHC had a longer mean operating time (179 versus 95 minutes; P = 0.001), greater estimated blood loss (63 versus 13 mL; P = 0.001), and greater intravenous fluid requirements (3.1 versus 2.1 L; P = 0.049). Patients undergoing LHC, compared with those undergoing LACP, were slower to pass flatus (2.88 versus 1.44 days; P = 0.002), resume eating solid food (3.94 versus 1.69 days; P < 0.001), and be discharged from the hospital (4.94 versus 2.63 days; P < 0.001). No significant differences between the groups were observed for postoperative complications, readmissions, or repeat operations.
"About 25 percent of patients undergoing colonoscopy require polyp removal, and a significant proportion of these patients have large polyps that cannot be easily removed by standard advanced colonoscopic techniques," Buscaglia said in a statement. "These findings suggest that we may need to tailor our surgical approach to ensure every patient receives the best care possible, regardless of polyp removal difficulty."