June 17, 2015
Metastasis to the lymph nodes is indicative of more aggressive thyroid cancer
the ONA take:
The staging system for thyroid cancer classifies the disease in four stages for patients older than 45 years, with stage 1 indicating the best prognosis and stage 4 the worst.
A separate system classifies the disease in two stages for patients younger than 45 years, and both are typically associated with a favorable overall prognosis. However, recent research findings indicate that in cases of thyroid cancer metastasis to the lymph nodes, risk of dying was the same for both age groups.
The researchers found that risk of dying was associated with metastasis to the lymph nodes. The risk for younger patients with metastasis was higher than the risk for younger patients with no metastasis to the lymph nodes.
In fact, it was similar to that of older patients. In addition, the number of lymph nodes involved played in role in survival. If six or more nodes were involved, survival was clearly compromised.
The senior author of the study commented that the results raise the question of whether the staging system should be revised to better reflect actual prognosis for all patients with thyroid cancer.
In addition, all surgery entails a certain amount of risk. But knowing that lymph node involvement in younger patients does carry survival risk, more extensive surgery for these patients may be warranted.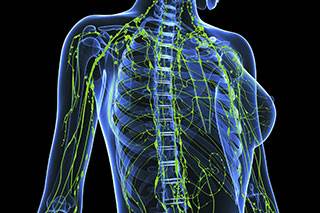 Risk of dying from thyroid cancer was associated with metastasis to the lymph nodes.
Patients older than age 45 with
thyroid cancer
that has spread to neck lymph nodes have long been considered at higher risk of dying, but the same has not been true for younger patients.
Sign Up for Free e-newsletters
Regimen and Drug Listings
GET FULL LISTINGS OF TREATMENT Regimens and Drug INFORMATION