September 04, 2015
Surgical lung cancer patients' views about smoking and support to quit
the ONA take:
Many patients with lung cancer want to be offered support to help them quit smoking after surgery, according to a recent study published online ahead of print in the Journal of Cancer Survivorship; however, support is often not provided by clinicians.
Because smoking cessation support is not well integrated into care for patients with lung cancer, researchers aimed to understand surgical patients' views about smoking and their preferences for cessation support to help them quit following hospitalization.
For the study, researchers conducted interviews with 22 surgical patients with lung cancer who had a smoking history, after surgery. Results showed that most participants wish they were a non-smoker, but also enjoyed smoking and believed it aided with psychological coping.
Researchers found that all participants felt clinicians should address smoking cessation, and some patients reported wanting support despite it not being provided.
"These findings suggest that surgical lung cancer patients would tolerate, and most would prefer, integration of smoking cessation support into routine cancer care," the study concluded.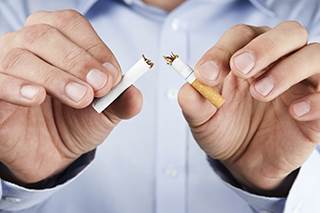 Surgical lung cancer patients' views about smoking and support to quit
Evidence suggests that quitting smoking improves symptoms as well as disease-related mortality for cancer patients. However, smoking cessation support is typically not well integrated into routine cancer care even in the case of lung cancer.. We explored surgical lung cancer patients' views about smoking and about their preferences for support to help them to quit.
Sign Up for Free e-newsletters
Regimen and Drug Listings
GET FULL LISTINGS OF TREATMENT Regimens and Drug INFORMATION