June 16, 2015
Active clinician support, assistance necessary to quit smoking
the ONA take:
Participation in an annual lung cancer screening alone may not motivate smokers to quit, but a more active role by a primary care provider can increase the chances that a smoker will quit. Active assistance, over simply asking questions about smoking status, seems to be the key.
Investigators affiliated with Massachusetts General Hospital conducted a study in which they reviewed data from the 2011 National Lung Screening Trial (NLST).
The initial study compared two screening methods, standard x-ray and low-dose CT, for the early detection of lung cancer and afterward, based on the results, the U.S. Preventive Services Task Force recommended that high risk individuals received a low-dose CT screening annually. (Individuals of age 55 through 80 with a pack-a-day smoking habit were deemed high risk.)
The Massachusetts General Hospital team sought to determine whether screening participation actually encouraged those not diagnosed with lung cancer to quit smoking.
The investigators examined data from individuals' post-screening assessment questionnaires (which were issued every 6 months), selecting participants that smoked in the previous 6 months and reported having at least one visit with their primary care provider.
The researchers compared 1,668 individuals that reported quitting the habit with an equal number that still smoked. The questionnaires asked the participants a number of questions about their primary care provider's involvement, including if they were a) asked about their smoking status, b) were asked about interest in quitting, c) advised by the primary care provider to quit, d) given some instruction on how to quit, including smoking cessation medication or counseling, and e) made arrangements for follow-up calls or visits related to quitting efforts.
The results indicated that merely asking patients about their smoking status, assessing their interesting in quitting, or advising them to stop did not increase the quitting rate, but providing methods or assistance and following up with the patient increase the likelihood of quitting by 40 and 46 percent, respectively.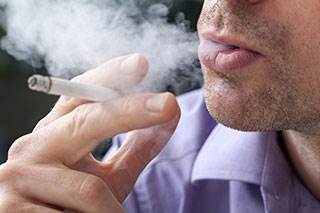 Participation in an annual lung cancer screening alone may not motivate smokers to quit.
In a report receiving online publication in
JAMA Internal Medicine
, a team found that, while providers' asking such
patients
about smoking did not increase their likelihood of quitting, providing more direct assistance significantly improved patients' success in becoming smoke-free.
Sign Up for Free e-newsletters
Regimen and Drug Listings
GET FULL LISTINGS OF TREATMENT Regimens and Drug INFORMATION