October 15, 2014
People with a family history of pancreatic cancer at increased risk for developing the disease
the ONA take:
According to a new study published in the journal Cancer, researchers at the University of Glasgow in Glasgow, Scotland, have found that patients with a family history of pancreatic cancer may be at an increased risk for developing the disease. For the study, the researchers analyzed data from 766 patients diagnosed with pancreatic cancer.
If the patients had one or more affected first-degree relative, they were classified as having an inherited disposition. If not, their disease was classified as sporadic.
The researchers found that nearly 9% of patients diagnosed with pancreatic cancer had at least one parent or sibling who was also diagnosed with the disease. In addition, they examined pancreatic tissue adjacent to the tumor in all participants and found that patients with first-degree relatives who also had pancreatic cancer had more precancerous tissue compared with those who did not have a first degree relative with the disease.
The researchers also observed an increased risk for developing melanoma and endometrial cancer in families containing multiple incidences of pancreatic cancer. Furthermore, participants who actively smoked cigarettes were diagnosed with pancreatic cancer at a significantly younger age. The findings suggest that genes play a role in the development of pancreatic cancer.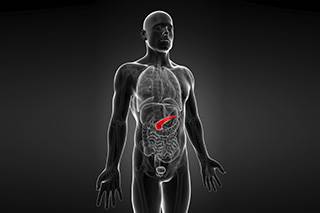 Patients with family history of pancreatic cancer may be at an increased risk.
New research that provides a better understanding of pancreatic cancer may help identify individuals at increased risk. The findings are published early online in Cancer, a peer-reviewed journal of the American Cancer Society. Pancreatic cancer is a stealthy cancer that is usually detected at very late stages and has a 5-year survival rate of less than 5 percent.
Strategies that might help identify which individuals have an increased risk of developing the disease are sorely needed. Some cases seem to run in families, but the genes that are responsible for such inherited predisposition remain largely unknown.
Sign Up for Free e-newsletters
Regimen and Drug Listings
GET FULL LISTINGS OF TREATMENT Regimens and Drug INFORMATION