December 02, 2014
New tool using 2D images to measure cancer risk
the ONA take:
Portuguese researchers developed a method of identifying cancer risk that uses images of a protein in a population of cells to quantify how much of the protein and where it is in the cell. The novel method was tested on cells with mutated e-cadherin, a tumor suppressor protein.
The mutation produces malfunctioning e-cadherin that causes human diffuse gastric cancer (HDGC). Gastric cancer is the fourth most common type of cancer in the world, and up to 3% of cases are HDGC. Mortality rates among patients with HDGC are high because the disease is challenging to diagnose early. E-cadherin functions as an adhesion protein that holds epithelial cells together; however, the mutated protein results in a mass of free-floating cancer cells that move and spread easily. HDGC has nonspecific symptoms, such as stomach acidity and burping, which further complicate diagnosis.
In addition, the malfunctioning e-cadherin leaves the membrane and is destroyed inside the cell. Without clear symptomatology, early diagnosis relies on searching for the lack of e-cadherin on the membrane. Test results for this effect are not reliable. The new method's algorithm allows researchers to select more representative cells for testing.
How it works is that software designed to compute data from fluorescence images of the protein in a cell population generates a map of the protein distribution. The software then constructs 2D virtual images of a typical cell in that population, allowing researchers—and in the future clinicians—to measure the level of e-cadherin in the cell and predict the patient's risk for HDGC.
This study focused on HDGC; however, e-cadherin mutations are known to be involved in other cancers as well, including breast, colorectal, thyroid, and ovarian cancers. The results from this study could also be applied to these cancers.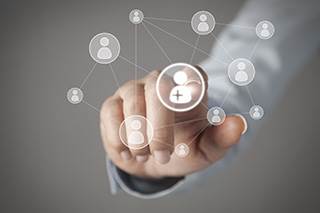 New method of identifying cancer risk that uses images of a protein in a population of cells.
Portuguese researchers have developed a new method, which from images of a protein in a population of
cells quantifies
its distribution (how much there is, and where in the cell) for that population.
Sign Up for Free e-newsletters
Regimen and Drug Listings
GET FULL LISTINGS OF TREATMENT Regimens and Drug INFORMATION