December 22, 2014
New drug improves survival in patients with non-small cell lung cancer
the ONA take:
Patients with non-small cell lung cancer (NSCLC) have a new treatment option. The US Food and Drug Administration recently approved ramucirumab (Cyramza), an antibody that targets the extracellular domain of VEGFR-2, an important protein in the formation of vessels that supply blood to cancer cells. The drug was tested on more than 1,200 patients with NSCLC whose cancer worsened during or after first-line chemotherapy. Ramucirumab was given in combination with docetaxel. Chemotherapy with a single drug is the usual standard therapy when disease worsens during or after initial therapy, and overall survival for this population is several months, with approximately 10% of patients responding to therapy. In this study, 23% of patients responded to the drug and the median survival was more than 10 months. Most common adverse effects experienced by patients were neutropenia, fatigue, and high blood pressure. Side effects were manageable with appropriate dose reductions and supportive care, and without substantial reduction in planned dose intensity. Future studies will investigate ramucirumab in combination with other drugs to treat lung cancer. In addition, ongoing investigations focus on understanding which patients are most likely to benefit from combination therapy with ramucirumab and docetaxel.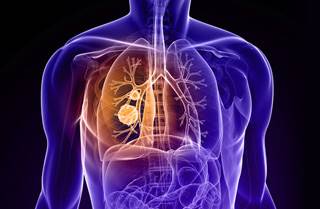 Scientists discover gene that prevents lung cancer metastasis
Food and Drug Administration today approved a new drug to treat non-small-cell lung cancer (NSCLC), offering patients new hope in fighting this difficult disease. Lung cancer is expected to lead to over 150,000 deaths in the United States this year alone, and NSCLC accounts for about 85 percent of all lung cancers.
Sign Up for Free e-newsletters
Regimen and Drug Listings
GET FULL LISTINGS OF TREATMENT Regimens and Drug INFORMATION