December 03, 2014
Most people do not recognize cancer warning signs
the ONA take:
According to a new study published in the journal PLOS ONE, most people ignore cancer "alarm" symptoms. Researchers at University College London in London, United Kingdom, asked 1,724 participants aged 50 years and over whether they had experienced and of 17 cancer "alarm" symptoms.
Some symptoms included in the questionnaire were changes in mole appearance, difficulty swallowing, persistent change in bowel habits, unexplained bleeding, unexplained cough, unexplained lumps, and unexplained weight loss. Participants were not informed as to which symptoms are warning signs of cancer.
They were asked what they the thought to be the cause of any symptoms they experienced, as well as how serious they deemed the symptoms to be and if they visited the doctor as a result.

Of all respondents of the questionnaire, 53% reported experiencing at least one cancer warning symptom in the last 3 months and only 2% considered the warning symptoms to be cancer-related. Persistent cough and persistent change in bowel habits were the most common cancer warning signs experienced; unexplained weight loss and difficulty swallowing were the least.
Results showed that 59% of participants who experienced cancer signs visited a doctor. The findings suggest that many people who experience cancer signs do not realize the seriousness of their symptoms.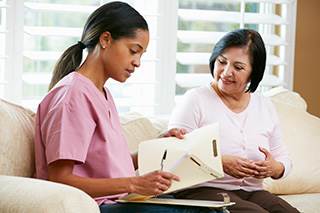 Most people ignore cancer "alarm" symptoms.
Katriina Whitaker, senior research fellow at University College London in the UK, analyzed the responses of 1,724 people aged 50 and over to a health questionnaire that was sent to them in April 2012. The questionnaire asked participants whether they had experienced any of 17 symptoms, 10 of which are defined as
cancer
"alarm" symptoms by Cancer Research UK.
Sign Up for Free e-newsletters
Regimen and Drug Listings
GET FULL LISTINGS OF TREATMENT Regimens and Drug INFORMATION