November 05, 2014
For breast cancer survivors, meditation may cause beneficial cellular changes
the ONA take:
According to a new study published in the journal Cancer, researchers at the Tom Baker Cancer Centre at Alberta Health Services and the University of Calgary in Calgary, Alberta, Canada have found that mindfulness mediation has effects on the cellular level of the body of cancer survivors in addition to an emotional and psychological impact.
For the study, researchers enrolled 88 breast cancer survivors who had completed treatment for breast cancer at least 3 months earlier and were experiencing great emotional distress. Patients either participated in the Mindfulness-Based Cancer Recovery program, in which patients attended meditation and gentle yoga instruction and practiced meditation and yoga daily at home, the Supportive Expressive Therapy program where patients shared their emotions freely during a support group session of other women, or the control stress management seminar.
Then, researchers analyzed blood samples from all participants and measures telomere length before and after interventions. They found that participants in the meditation and support groups had longer telomeres than the control group. Shorter telomere length has been associated with cancer, and a longer length are typically considered a sign of good health.
The findings suggest that practicing meditation and yoga or taking part in a social support group not only have a positive emotional and psychological influence on breast cancer survivors, but also cause positive cellular changes.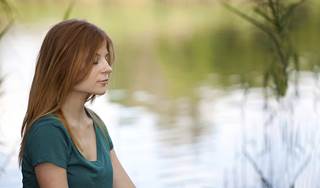 Mindfulness mediation has effects on the cellular level of the body of breast cancer survivors.
Mindfulness meditation is known to have a positive emotional and psychological impact on cancer survivors. But some groundbreaking new research has found that meditation is also doing its work on the physical bodies of cancer survivors, with positive impacts extending down to the cellular level.
Practicing mindfulness meditation or being involved in a social support group causes positive cellular changes in breast cancer survivors, according to researchers at the Alberta Health Services and the University of Calgary. "We already know that psychosocial interventions like mindfulness meditation will help you feel better mentally, but now for the first time we have evidence that they can also influence key aspects of your biology," lead researcher Dr. Linda Carlson of the Tom Baker Cancer Center at Albert Health Services, said in a statement.
Sign Up for Free e-newsletters
Regimen and Drug Listings
GET FULL LISTINGS OF TREATMENT Regimens and Drug INFORMATION