December 15, 2014
No association between migraine and breast cancer risk
the ONA take:
According to a new study published in the Journal of the National Cancer Institute, researchers at Harvard University Medical School in Boston, Massachusetts, have found that there is no associated between migraines and risk of breast cancer.
For the studies, researchers analyzed four other studies that included over 100,000 women actually found that migraines may decrease the risk of breast cancer, but researchers note that this finding may be due to study design rather than a real association.
The theory that there was a link between migraines and risk of breast cancer comes up from the notion that both arise from increased sex hormone levels. When the research team analyzed the levels of sex hormones in about 2,000 premenopausal women who experience migraines, the researchers found no link between the two.
According to the Migraine Research Foundation, approximately 18% of American women and 6% of American men experience migraines. A migraine is a severe headache that is often accompanied by sensitivity to light and sound, nausea, visual disturbances, and vomiting. A migraine can last anywhere between 4 hour and 3 days.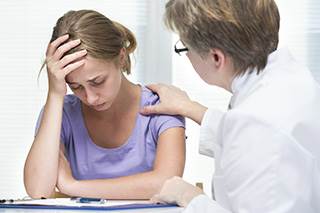 There is no associated between migraines and risk of breast cancer.
A large, new study should reassure the millions of American women who have migraine: The debilitating headaches don't raise the risk for
breast cancer
. "There is no association between migraine and breast cancer risk," said lead researcher Rulla Tamimi, an associate professor of medicine at Harvard Medical School.
Sign Up for Free e-newsletters
Regimen and Drug Listings
GET FULL LISTINGS OF TREATMENT Regimens and Drug INFORMATION