December 29, 2014
In patients with non-small cell lung cancer, certain comorbidities impact survival
the ONA take:
According to a new study published in the journal Lung, researchers have found that certain comorbidities in patients with non-small cell lung cancer (NSCLC) significantly negatively impact survival. For the study, researchers sought to investigate the negative prognostic factor of individual comorbidities in patients with primary lung cancer. They identified 10,378 patients who were diagnosed with NSCLC between 2009 and 2011. Results showed that patients with NSCLC and cardiovascular comorbidity have a 30% increased mortality rate (HR = 1.30; 95% CI: 1.13 - 1.49) compared with those without comorbidity. In addition, patients with diabetes (HR = 1.19; 95% CI: 1.02 - 1.39), cerebrovascular disorders (HR = 1.18; 95% CI: 1.05 - 1.33), and chronic obstructive pulmonary disease (COPD) (HR = 1.20; 95% CI: 1.10 - 1.39) have an approximately 20% increased mortality rate compared with those without comorbidity.
Primary lung cancer is one of the most frequently occurring types of cancer, and morbidity has been shown to negatively impact survival in patients with lung cancer. This study shows that comorbid cardiovascular disease, diabetes, cerebrovascular disorders, and COPD individually increase the death rate of patients by 20% to 30%.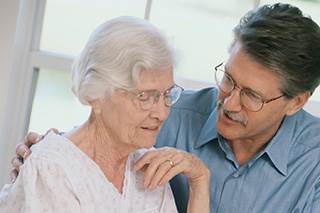 A family member serves as a caregiver for a patient with cancer.
The purpose of this paper is to investigate the effect of each comorbid disease groups on survival. Diabetes, cerebrovascular disorders, and COPD also have a significant impact on survival of NSCLC patients.
Sign Up for Free e-newsletters
Regimen and Drug Listings
GET FULL LISTINGS OF TREATMENT Regimens and Drug INFORMATION