December 16, 2014
Increased selenium levels associated with reduced risk of colorectal cancer
the ONA take:
Increased levels of selenium, a mineral found in soil and some foods that is key to metabolism function, have been associated with a lower risk of colorectal cancer.
Research conducted by investigators based at Newcastle University, UK, the International Agency for research on Cancer (IARC-WHO), and the Royal College of Surgeons in Ireland, determined that Europeans average 80 micrograms of selenium, well below the 110-170 range seen in North America.
These lower selenium averages are probably due to a lower selenium soil content in Europe. (Current recommended dietary allowance [RDA] of selenium for adults is at least 55 micrograms per day, with a safe upper limit of 400 micrograms per day.)
The team examined selenium levels in the blood as well as selenoprotein O P levels, and they determined that a higher selenium level correlates to a lower colorectal cancer risk, with a greater correlation for women.
Although they acknowledge the need for additional study, they feel that a dietary supplement containing selenium could be beneficial for populations in which naturally occurring selenium levels are insufficient.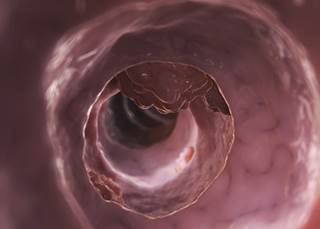 Increased levels of selenium have been associated with a lower risk of colorectal cancer.
Higher levels of selenium are associated with a decreased risk of
colorectal cancer
, according to new research* published in the International Journal of Cancer.
Sign Up for Free e-newsletters
Regimen and Drug Listings
GET FULL LISTINGS OF TREATMENT Regimens and Drug INFORMATION